Webcam Surveillance Software
As smart home technology becomes more accessible to the general public we are starting to get a better glimpse into what's possible by firms who have made it their goal to put these tools into our hands. When it comes to Home Security Systems and smart home technology one resource majority of us have is the very same resource you can start using for smart home security purposes: The Computer.
We had the fortunate opportunity to interview three companies who have engineered software that allow individuals the ultimate do-it-yourself experience of turning their home computers and webcams into personal home security surveillance systems. (See More About Security Cameras)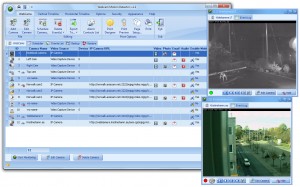 What product do you have that can be used for security surveillance, and how does it work?
Webcam Motion Detector – Motion detection and webcam monitoring. Video surveillance with multiple IP cameras and video capture devices. For each video frame, if motion is detected, the Alarm event occurs, that returns a global motion ratio, depending of the number of cells in which motion has been detected, and the level of motion in each cell.
A sensitivity grid is applied on video frames. You can adjust the sensitivity of the detection, and mask out areas of the camera view to avoid false alarms. When the camera captures video frames in a dark environment, it is possible that the electrical background noise of the CCD video cell creates fake motion detection events. It is possible to reduce the sensitivity of to the video noise by enabling the Reduce Video Noise option. When an alarm condition is detected, the program can sound an audible alarm, or send you an email with a photo.
Automatically capture photos, or record video in compressed files. Webcam Motion Detector includes an advanced player that allows to play video clips, capture video frames and perform frame overlay. Each camera has its own individual monitoring and recording settings. All settings, such as alerts, photos, and video recordings can be turned on and off using the built-in scheduler. All monitoring and alert events are logged with date and time stamps. Each camera has its own scheduled on (off) times.
Building upon the interface options introduced in Microsoft Outlook, scheduler includes event recurrence control and customizable Date Navigator. Access to all data is provided through a well encrypted password. Detected an intruder? Instantly play a sound of a dog barking and send yourself a framegrab directly to your mobile phone.
Just as WMD can keep an eye on your home, it can do the same for your workplace. It can then start recording on motion detection and then automatically email or SMS you images of the people who have stolen your computer. Just hook up some webcams (or IP cameras) and leave program running.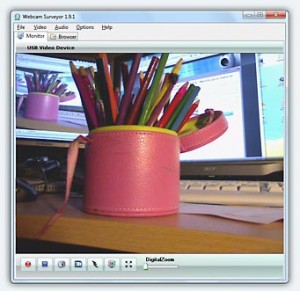 What product do you have that can be used for security surveillance, and how does it work?
Webcam Surveyor application has several features that can be used for video surveillance:
24/7 video recording in multiple video files. This allows viewing already captured files while record is continues.
Motion detector with motion capture can record only frames in which movement was detected.
Send email messages or upload pictures to the FTP server if motion detected.
Stealth Mode – allows hide Webcam Surveyor software on PC and control it by hotkeys.
After installing the program is completely ready to work. The camera and video formats settings can be found in the Main Menu/Video. To start motion detection or video capture click on the appropriate button below the video window. To cancel all operations click on Stop button. Additional program options are available at Main menu/Options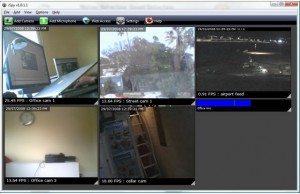 What product do you have that can be used for security surveillance, and how does it work?
iSpy is open source camera security software for PC's. iSpy uses your existing hardware – PC's, webcams, microphones to monitor your house/business for movement or sound.
HomeSecuritySystems.net thanks these three companies for giving us a quick introduction into their smart home security technologies.