Top Picks | Infrared Security Cameras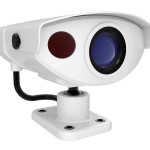 Infrared cameras have the ability to capture an image when there is little or no light available during the time of recording. The infrared cameras utilize a night vision technology that allows images to be detected in the dark. Video recordings of activity in darkened locations can be created which result in high-quality imaging to capture vandals or burglars.
Infrared cameras can be used in both indoor and outdoor locations to capture and record activity around a residential or commercial location. Cameras are available in multiple styles including the versatile bullet camera and the recognizable dome cameras. There is also a specialty type of infrared camera intended specifically to read license plate information which is suitable for public and private parking areas for a number of industries.
The following infrared cameras have been handpicked by HSS.net staff out of the many currently available on the market. (See our Top Home Security System Picks)
Rank
System
Features
Price
1.


Varifocal Infrared Camera with 940nM Illumination

1/3″ Sony Super HAD CCD
550TVL Color
Weatherproof
6-50mm DC Auto Iris Lens
Day/Night
12 Volt DC

329.99
View
2.


DIGIOP Black 600 TVL 0.0 Lux Dome Security Camera

AI 2.8-11mm Varifocal Lenses
Digital Noise Reduction
Day/Night
Wide Dynamic Range
12 Volt DC/24 Volt AC

229.99
View
3.


600 TVL 10-40 mm 100 Ft IR License Plate Camera

Capture License Plates Day or Night
600 Lines of Resolution
10-40mm Lens
100′ IR Range
Infrared Illumination

999.99
View
4.


80 Ft 940 nm No Glow IR Varifocal Bullet Security Camera

1/3″ Sony Super HAD CCD
550TVL Color
580TVL B&W
4-9mm DC Auto Iris Lens
Weatherproof
12 Volt DC

279.99
View
5.


DIGIOP Black 600 TVL 60 Feet IR Dome Security Camera

AI 2.8-11mm Varifocal Lenses
60′ IR Range
Digital Noise Reduction
12 Volt DC/24 Volt AC
Five Year Warranty

199.99
View

(See Other Types of Security Cameras)
Depending on the needs of a home or business owner, infrared cameras are an asset during the occasion when crimes are committed after dark and in the dark. Different camera models are built to view and record activity at different distances. Some infrared cameras also allow for recording in color when infrared technology is not needed.
Many businesses and homeowners have employed infrared cameras to provide additional security and surveillance capabilities in order capture activity in low light and completely dark locations such as after business hours when lights are cut off and criminals can be tempted to do their damage.
Infrared cameras are available in multiple styles and sizes so they can be used in numerous locations inside and outside your location. Cameras can be mounted over doors, to the ceiling, or on outside walls or gates to monitor the activity in and around the building after the lights go out for the night.
Infrared cameras are highly reliable for locations that do not get much light which are also the places that experience the most criminal activity. As many individuals will not anticipate camera recording activity in a dark location, the cameras can be an effective measure for capturing evidence to be used for prosecution.