Top Picks | Dome Security Cameras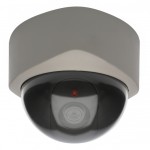 Dome cameras are a highly recognizable measure of security. Many businesses utilize dome cameras to keep tabs on different locations and activities taking place each day. Dome cameras are installed in the ceilings of a location and are visible to the public. However, the dome covers of the camera are tinted to make it impossible to determine in which direction the camera is pointing.
In many cases, installing dome cameras can be effective at deterring criminal activity. The public at large is often able to recognize the presence of dome camera security systems as they are a familiar sight. This can deter unwanted activity by those who know they are on camera, being monitored. In the event crimes are committed, the dome cameras can capture footage to be used as evidence for prosecution.
HSS.net has put together a comprehensive list of our Top Dome Security Camera picks based both on each offering's features as compared to its price. (See our Top Home Security System Picks)
Rank
System
Features
Price
1.


DIGIOP Black Network IP Indoor Mini Dome Security Camera

Up to 30 FPS
High Res 720×480
H.264 compression technology
Digital Day/Night
3 Year Warranty
Motion Detection

399.99
View
2.


IQeye Alliance-Pro Outdoor 480p Day/Night Vandalproof Dome Security Camera

480p 5 MP Resolution
H.264 Main Profile + MJPEG
Lightgrabber II Low Light Feature
Wide Varifocal Lens
Day/Night
Two-way Audio

839.00
View
3.


LG 650 TVL Vandal-Proof ICR Day/Night Dome Security Camera

XDI-V Image Processor
3 Axis Gimbal Mechanism
650 TV Lines Color Resolution
ICR Day/Night
Weatherproof

230.00
View
4.


DIGIOP Black 690 TVL 0.1 Lux Dome Security Camera

AI 2.8-11mm Varifocal Lens
Digital Noise Reduction
690 Lines Resolution
5 Year Warranty
12 Volts DC/24 Volts AC

289.99
View
5.


Hi-Res Day/Night Wide Dynamic Indoor Dome Security Camera

560 Lines Color Resolution
Sensup 0.0002 Low Light Rating
On Screen Display
1 Year Warranty

99.99
View

(See Other Types of Security Cameras)
One especially beneficial aspect of dome cameras is their durability which makes them an asset to outdoor security monitoring. This type of security camera is manufactured to resist rough outdoor conditions including rough weather. Their tough exterior also makes it more difficult for vandals to remove the camera and disrupt the imaging being captured.
Due to dome camera visibility, criminals may rethink their plans to do harm to a business even if there is not an active camera inside or if the camera is pointing in a different direction. However, many dome cameras have the capability to tilt, pan, zoom, and scan rooms or outdoor areas for better surveillance. Dome cameras are also made to work effectively when lighting is not present with night vision technologies.
Dome cameras are an effective way to control criminal activity by remaining visible to the public's view. They are an affordable camera system which can be used for recording and monitoring activity in real-time. There are multiple types of dome cameras available to meet the security needs of different sized businesses and even residence that need adequate security and monitoring.