Top Picks | Bullet Security Cameras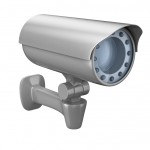 Bullet cameras are a common type of camera accompanying a surveillance system. The camera is coined as a bullet camera due to its shape that resembles a gun's bullet. These camera types are compact and can be easily used when discretion is necessary but bullet cameras are available in a variety of sizes to meet the needs of a business or a residential setting.
The image produced by bullet cameras are high quality and video recording is possible. Cameras are available for both color monitoring or in black and white. For those who rely on security at night when darkness is prominent, there are infrared bullet cameras which make imaging still clear without much light present. Recording of the activities can be saved and presented as evidence in the event of criminal activity.
HSS.net has put together a comprehensive list of our Top Bullet Security Camera picks based both on each offering's features as compared to its price. (See our Top Home Security System Picks)
Rank
System
Features
Price
1.


DIGIOP Black 600 TVL 0.0 Lux 150 ft IR Bullet Security Camera

150 Ft Range
Infrared Illumination
Built-in UTP
Digital Noise Reduction
Weatherproof
Day/Night Shooting

309.99
View
2.


3S 2.0 Megapixel 82 Ft IR Network IP Bullet Security Camera

2.0 Megapixel
82 Ft Range
Infrared Illumination
Weatherproof
3.3mm-12mm Varifocal Lens
2 Year Warranty

549.99
View
3.


Sony Network 720p HD IR Bullet Security Camera

720p HD H.264 @ 30 FPS
1.3 Megapixel Resolution
Exmor CMOS Sensor
Infrared Illuminator
Weatherproof
3 Year Warranty

1248.00
View
4.


2.1 Megapixel 98 ft IR 2-10 mm Varifocal WDR Bullet Security Camera

2.1 Megapixel
1080p @ 30 FPS
98 Ft IR Range
External Lens Adjustment
1 Year Warranty

439.99
View
5.


LG 650 TVL Outdoor 160 ft IR 2.8-11 mm Varifocal Bullet Security Camera

XDI-V Extreme Dynamic Image Processor
650 TV Lines Color Resolution
IP66 Weatherproof
0.0 Lux, Without External Illuminator
RS-485, Coaxial Communication

265.00
View

(See Other Types of Security Cameras)
Bullet cameras are available for both indoor security and outdoor surveillance. The outdoor models are created to be weather-resistant so they are durable enough to endure outdoor conditions such as inclement weather and extreme hot and cold temperatures.
For those who are utilizing bullet camera for security purposes, most models can record activity continuously. Many of the cameras use motion technology to trigger the start of recording. Cameras are mountable and are typically placed on walls or ceilings of the building for security monitoring. Smaller models of the cameras can be installed in more discreet locations to prevent people from detecting the camera surveillance. Out-of-the-way locations, such as on a tree branch or as part of an outdoor landscape, make the bullet camera a versatile choice in security camera.
There are many sizes and styles of bullet cameras available on the market today to meet the security and budgetary concerns of homeowners and business owners. Because of the camera's discreet designs, they can be mounted in many locations to capture security issues or criminal activity without a lot of hassle or expense.