Top DIY Deadbolt Installation Guides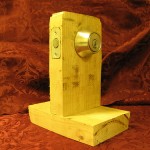 One of the first steps to prioritizing your home's security is by understanding that there are a few steps you can take that will ensure a big return on safety based on a small amount of effort. One such commonly overlooked area of security that gets a very high return on safety is something you probably interact with on a daily basis. Front doors are the most common way to enter a home next to going through a home's garage and one of the best ways to increase the safety of your home is by upgrading your lock from a regular pin tumbler lock that your home came with to a full-on deadbolt lock.
The following is a list of the most helpful guides you can find online for installing your own deadbolt lock:
One of the best methods for approaching a DIY project, especially one that directly impacts you and your family's safety, is by reading as much as you can until you feel you've reached a level of competency, understanding, and confidence to know that you'll do a good job. The more of these guides you read the better before beginning your project, the better!
Photo credit to tmib_seattle