The Most Likely Break-In Spots in Your Home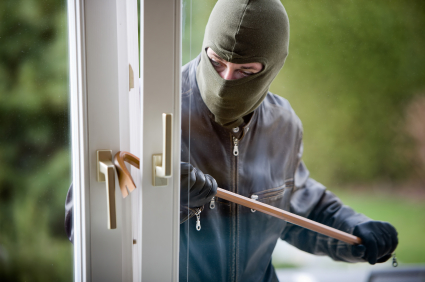 As a homeowner, one of your biggest fears probably involves burglars. Nobody wants their home be broken into, which is why security systems are such hot sellers. Without question, a home security system is an excellent way to keep your home from being broken into; having a basic understanding of how burglars typically gain access to a home can help you be a more informed shopper.
Below, some of the most common entry points for home break-ins are highlighted for your convenience. Familiarize yourself with them and keep them in mind when shopping for a home security system.
Common entry points – Doors
An unlocked door is a burglar's best friend. Many burglars go around looking for front doors, back doors and other doors that haven't been properly secured by homeowners. Even if you are conscientious about locking your doors, your locks may not be sufficient enough to keep even an amateur robber from getting in. A few important facts about doors and break-ins include:
Many burglars gain access to homes through sliding glass doors. Such doors can be easily lifted off of their tracks; a burglar doesn't even need special tools to do that. The best way to guard against such an occurrence is by having vertical locks installed on all of the sliding glass doors in your home.
Garage doors are another very popular entry point for home break-ins. Many homeowners don't realize this, and leave the doors leading into their homes from their garages unsecured. Always lock the door that leads from your garage to your actual home – and always make sure the garage door shuts completely when coming and going.
Back doors are frequently targeted by burglars because they are less likely to be noticed by neighbors when entering a house that way. It definitely pays to invest extra money in exceptionally strong back doors, and to use floodlights and other deterrents as well.
If your doors have sidelight panels, make sure that they're made out of a break-resistant material. Otherwise, burglars can easily smash them open and unlock your doors themselves.
Common entry points – Windows
Windows are another popular entry point for burglars. A couple of important facts concerning windows and break-ins include:
Screens will generally not keep burglars out, since they can be easily cut through. Always shut windows completely when leaving your home unattended.
If the ground-level windows in your home use cranks, remove them when leaving the house. Otherwise, burglars can reach through and open your windows with ease.
Window locks are excellent ways to keep burglars from gaining access to your home through its windows. Remember that double-hung windows must be completely closed in order for their center locks to work properly.
Louvered windows are not easy to secure. If your home has them, consider replacing them with double-hung windows, which are much safer.
For maximum security, burglar bars are always an option for the ground-level windows in your home.Above all else, always remember to close, lock and secure the windows and doors of your home anytime you leave – and during the night. It's one of the best ways to keep burglars at bay.