The Booming United States Firearm Industry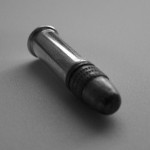 On December 15th, 1791, lawmakers adopted the famous Second Amendment into the United States Constitution which protects citizens' right to bear arms. Since this historic moment Americans have embraced their right to own and use firearms for both protection and recreation which has, according to the National Shooting Sports Foundation (NSSF), enabled the growth of a $13 billion firearms and ammunition industry that represented an economic impact of over $30 billion in 2011.
Some of the most popular brands in the firearms industry saw tremendous growth in the past year due to a high volume of gun sales. For fiscal year ending in April, 2012, the famous gun brand Smith & Wesson (NASDAQ: SWHC) saw a gross profit of $127 million which was an increase of 22.3% over the previous year. Growth of this size in an industry of its age begs the question of why people are buying more guns now than ever before.
"We believe that the strong consumer buying has been driven by a number of macro influences, including political, social, and economic. Certainly, we believe the recent political environment has been favorable at both a state and federal level, highlighted by the upcoming presidential election," Smith & Wesson's Vice President of Investor Relations, Elizabeth Sharp, said, "More important to our industry is the social element. We believe that the user base has expanded dramatically. And this has likely been driven by increases in female ownership and the entry of a younger generation of new owners. We believe this higher level of social acceptance is clearly demonstrated in the adoption rates to conceal and carry firearms."
When we surveyed a number of weapon and survival blog and gun-related business owners about what they considered to be the main reason for owning a firearm the most common answer was in line with exercising their Second Amendment right.
"The main reason for having firearms is for self-defense. They're fun for recreational purposes, too, such as target shooting." John Wesley Smith, editor for DestinySurvival.com, said. "They also serve a utilitarian purpose for hunting, for anyone who has the skills and interest to do that."
If the main purpose of firearms is for self-defense then this begs the question of what firearms the experts would recommend homeowners own to promote the protection of themselves and their families.
"For personal protection needs, I would suggest taking a look at two of our newest products," added Sharp, "In April we launched the M&P Shield, our newest polymer pistol, available in 9mm and .40 S&W. The new M&P Shield delivered the professional grade features found in the M&P pistol series — simple operation and reliable performance, all in a slim profile. Acceptance of the M&P Shield in the market has been tremendous. In fact, the May 29th edition of AmmoLand applauded the well-coordinated product launch; and in reviewing the M&P Shield, wrote that it sets a new standard in the firearm industry.  During the quarter we also completed preparations for the May launch of our new SDVE line of semiautomatic pistols. This replacement to our Sigma series is chambered in 9mm and .40 S&W, and it's designed for personal and home protection. The SDVE combines attractive price points with enhanced features, especially the trigger pull."
Fortunately, most people who purchase firearms don't need to use them for their main agreed upon purpose and keep them locked in a gun safe. There are times, as we have seen in previous news reports here on HSS.net, that people need to promote their own personal safety, and that firearms are an effective measure to take.