LifeShield to Launch New LifeView Product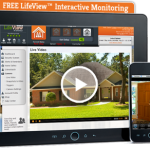 Home security company LifeShield recently showcased its new product, LifeView, in a comprehensive video which describes what LifeView does to meet your security needs along with what ways LifeShield is ahead of the competition. (Read Our Review of the LifeShield Service)
"We developed the new LifeView in concert with customer feedback and usage data to ensure we are delivering exactly what the customers want and in the way they want to use it," Evan Kramer, SVP of Interactive Marketing at LifeShield said. "We are as much a technology company as we are a home security company, because we realize that a security system is only as good as the technology that powers it."
Some of LifeView's technological advancements include:
CrimeWatch – Sends instant alerts of activity happening in and around your home. Through LifeShield's video monitoring you can then access, using many different types of mobile devices, the video files and snapshots of your home to assess the need for further assistance, or if it's just your children getting home from school.
LifeShield Advanced Video Monitoring – You can manage your entire LifeView system from your mobile device and access video monitoring anywhere, anytime.
Home security has evolved from a door-to-door foot race to a technological arms race to see who can provide the most home automation capabilities to their customers for the lowest cost.