Keeping Your Kids and Home Safe During Trick or Treating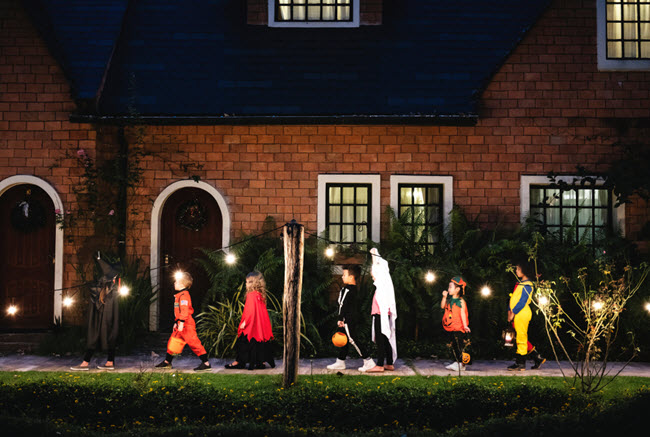 It's that time of year again when it's perfectly normal for complete strangers to ring your doorbell, and people to run around the streets wearing masks and carrying daggers. If you didn't know what exactly Halloween was, the day would sound rather scary actually. Crimes are on the rise during this spooky holiday. There just isn't enough police force to keep up with the trouble, and criminals rely on that fact. But you have the power to keep your home and kids safe during Halloween—particularly during trick or treating time.
Keep your smart doorbell active
Burglars might ring your doorbell, pretending to be trick or treaters, just to see if you are home. If you aren't home, you should know if that happens. A smart doorbell can help with that. It'll notify your smartphone when someone rings a doorbell, then you can tune into the live footage on the camera of the doorbell, and see who is knocking.
Remove valuables from the entryway
Since you will be opening the door to hand out candy, it's important that you don't keep any valuable or private items by your entrance. Remove anything that might be enticing to a burglar who is just masquerading as a trick or treater.
Don't let strangers use your bathroom
No matter how badly they say they need to go, don't allow strangers into your home to use your bathroom, or your telephone. In most cases, trick or treaters live in your neighborhood and have their own bathroom to return to. There is no good reason to let a stranger into your house.
Don't answer for adults in masks
Always look through the peephole before answering the door, and don't answer for adults in masks. They could be burglars, ready to break in. It's a good idea not to answer the door for any adults who don't have children—it isn't normal for adults to trick or treat without kids.
Lock all other entryways
Since you'll spend most of the evening by your front entrance greeting trick or treaters, it's especially important that your other entryways are guarded. Schedule back and side doors to lock during trick or treating hours.
Don't trick or treat off main streets
If you take your kids trick or treating, don't trick or treat off main streets. Stay on the busy neighborhood streets that are clearly set up for the occasion. It's not worth it to go down a dark street, just for a little extra candy.
Never let kids go into a house for treats
Instruct your children to never go inside a house for treats. If they're pre-teens or teens, they may be out without your supervision. So make sure they know safety rules like no going in a stranger's house to use the restroom, use the phone, or get a treat.
Only give and take packaged goods
Only give out packaged treats and only let your kids accept packaged treats. Giving out homemade ones could put you at risk for a lawsuit, should a child become sick off of your treats (or claim to). Meanwhile, your kids shouldn't take homemade treats from strangers.
Illuminate ground decorations
Make sure the front of your house—like the walkway to your door, and your ground decorations—is well illuminated. You don't want anyone tripping and injuring themselves on those gravestones you put on the front lawn.
Don't be lured away from your home
If someone bangs on your door, claiming there is some emergency out in the street that you need to check on, don't go. Ask them for the information, and call 911. They may just be trying to lure you out of your home to rob it.
Designate hours
Put up a sign detailing during which hours you are giving out treats. This not only saves you the trouble of having kids ring your doorbell at all hours, but it also lets you know to be suspicious of anyone on your lawn outside of those hours.
Halloween can be a lot of fun, but it also has some inherent dangers. Don't let trick or treating night turn into an evening for criminals to just trick you.