Keeping Your Home Safe During a Holiday Party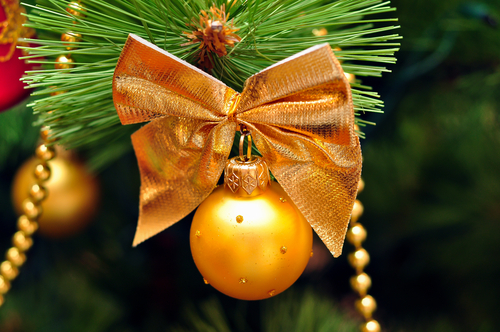 Holiday party season is here. Whether you're celebrating a certain religion, or just taking the last year of the month to appreciate and catch up with your friends, you likely want to have a little gathering. To most, the sounds of laughter and holiday music blaring from a home covered in twinkle lights are magical; for others, it's an opportunity to burglarize while a homeowner isn't paying attention. Here is how to keep your home safe from a burglary during a holiday party.
Don't put a giant Christmas tree in your front window
Positioning a huge Christmas tree in your front living room window may look gorgeous to people walking by, but it obscures your view to your yard and the surrounding areas. Make sure that your Christmas tree, or giant blow up Santa, doesn't block any main windows through which you could supervise your front yard.
Don't overextend your electricity
You likely have holiday lights strung up, possibly a fake fireplace roaring, music blasting, crock pots warming stews, a television playing a sports game and more. Then keep in mind that half of your neighborhood is using extra electricity for their holiday decorations, and you'll realize that a holiday party is a prime time for a power outage. If your power goes out, this causes several problems for your security. It could mean your entire home automated system is deactivated—the alarms, the motion sensor lights, and the automatic locks. This puts your home very much at risk for a break in. It also means the simple fact that you cannot see very well, so you can't observe who is coming and going through the front door. Dim lights, don't use too many appliances at once, and maybe light a real fire instead of running a thermostat.
An open door policy
You might leave your front door propped open so guests know they can just walk in. You may at least leave it unlocked, so you don't need to stop what you're doing to answer it every time somebody shows up. But if you do this, a burglar can easily walk in. Even if you lock your front door, some of your guests (who have had a few cocktails) might open it when somebody knocks, and let a stranger in. The best way to prevent these mishaps is to put somebody on door duty. Some of your closer friends can take shifts throughout the night. During their shift, they need to stand near the door, answer it if somebody knocks, and ensure you actually know that person.
Block off rooms
There is still a chance that somebody who shouldn't be at your party makes it in. For that reason, it's important to restrict areas of your home where you keep valuables. You can use your automated home system earlier in the day to schedule the doors to these areas to locks—that way you don't need to think about it once the party has started.
Properly vet the people you hire
If you are hiring caterers, bartenders, cleaners and the like, only user services who come with great references and are highly established. Ideally, you should use someone that a friend or family member has hired many times in the past with no issue.
Keep your cell phone on you
This is so you can get any security notifications your automated home system sends you. You may not hear someone try to open a back door or window, but your smart security system can send you a text message letting you know it's happening. It can also help you take a quick peek at the live surveillance around your home, so you can look around without having to take one step.
This is a great time of year to open your home to family and friends and reminisce about the last 12 months. Just make sure that only your family and friends come over.