Interview with LaserShield CEO, Anthony Dohrmann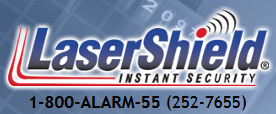 In the world of home security it is often times a hassle to figure out which home security service fits your personal needs, which has much to do with why so many home security companies have been able to succeed in the home security space over the years.
HSS had the wonderful opportunity of getting to ask the CEO of LaserShield, Anthony Dohrmann, several questions about his company, the different offerings of LaserShield, and what we can look forward to going into the future from LaserShield.
HomeSecuritySystems: How and when was LaserShield created?
Anthony Dohrmann: LaserShield was founded in 1999. The goal of the company was to create instant burglar protection for renters of homes and apartments, who are burglarized over 80% more than those with owned homes. Especially in multi-family apartment environments, the noise level of service providers along with the voluminous number of residents and guests, is an ideal environment for burglars. Residents become numb to the frequent traffic and activities of their living quarters and it's easy to blend in to the general flow of activities unnoticed. We created a plug and go system that could easily be expanded and relocated when customers moved. We avoided devices that were complicated to install or permanent fixtures that were more prohibited in the rental atmosphere.
LaserShield aired on QVC in 2003 and launched nationwide in major retail stores in 2005. Because of its reliability and simplicity of setup, coupled with authentic, high quality emergency response, LaserShield became an instant hit. It was promoted on Good Morning America, The View, New York Times and countless other media outlets. More and more single family homeowners began picking up the product, followed by a large population of adopters in the small business community. Most alarm companies view small businesses operators as risky financial investments, as compared to high credit score, home owners with lien-able assets. Business owners are charged a premium to offset the risk with more upfront out of pocket security investments and higher monthly fees. LaserShield now caters to a variety of customer demographics and is one of only a handful of companies to provide and service customers in all 50 states.
HSS: LaserShield offers both LaserShield Basic and LaserShield PRO. What are the key differences between the two offerings?
AD: Customers today are more technically savvy. They want upgradeable solutions with increasing features including perimeter protection, glass breakage, home automation, fire and CO protection. Our expanding business market was interested in video capabilities, after hours security status alerts, and monitoring of employee activities who interact with the business and security system. We created a branded security package that provided a broader array of options for customers seeking flexibility and higher levels of protection.
HSS: A growing number of apartment dwellers no longer using landlines to make phone calls. Do you need a landline to use LaserShield, or is there a way around this?
AD: We provide an optional cellular GSM adapter named the Cyclone for wireless alarm monitoring. We also have a module named the Sparrow to enable emergency response monitoring over IP networks. We believe landlines are still the most reliable method of transmitting alarm signals to a central station with all things considered. Yet, we recognize the evolving technology communication platforms and provide alternatives to our customers.
HSS: At its core LaserShield is a home security company, but still has to compete with the other home security companies on the technology front. Are there any interesting gadgets in the works at LaserShield that we can look forward to in the future?
AD: LaserShield is security for home and office. Because we're so affordable, we're a great solution for the burglar triple play reports we get from the field. Burglars visit business owners to check their hours of operation. They often steal the distracted business owners car and use glovebox documentation such as registration and insurance information to find the entrepreneurs home address. While the business owner is busy servicing customers their car is used to load up items from an unoccupied home. The first police report is for the missing automobile. The second is at the residence after close of business. While the business owner is surveying their burglarized residence with law enforcement the intruder robs the business. LaserShield provides the most affordable solutions in the industry and can typically protect a business owner's office and their home, for less than the competition can protect just one.
LaserShield is committed to the R&D efforts required to remain innovative. We collaborate with OEM equipment suppliers and our own engineers. We're developing security applications for smart phones to expand monitoring and supervision capabilities, researching new sensing technologies, and beginning to invest in specialized tracking solutions for military and undercover law enforcement who are abducted, or taken under duress. LaserShield is also beginning to expand service offerings into the healthcare and wellness market. By working with an affiliation called LifeSupport Medical, a product called The Electronic Caregiver provides various forms of environmental hazard detection, medical alert and medication management features.