How Your Home Automated System Can Simplify Entertaining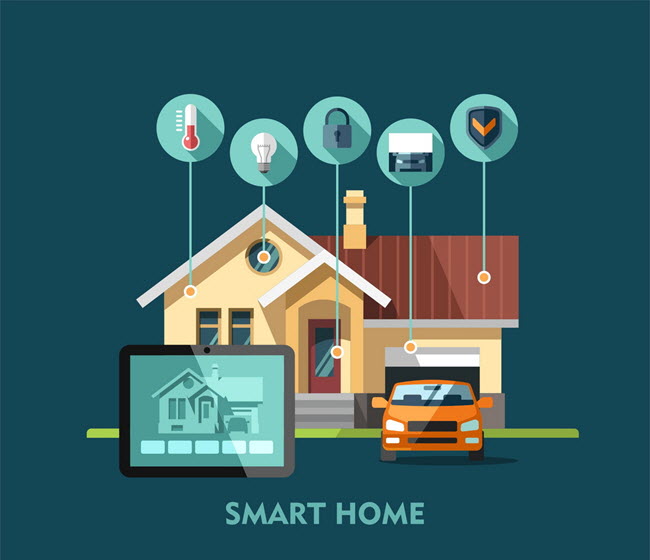 When you're the host of a party, it can be difficult to enjoy your own event. You put so much time, energy and money into throwing this bash, and yet, the night just flashes before your eyes because you're constantly changing the music and checking on cooking temperatures.
Fortunately, a home automated system can help make entertaining a little easier, so you can join in the fun, too. Home automated systems focus on more than just serious things, like burglary prevention and smoke detectors; they have a lighter side, too. Here's how yours can help simplify entertaining.
Let in the Cleaning Crew, Wherever You Are
If you have a cleaning team coming over to prep your home before the party, you don't have to be home to let them in. Make sure you already know and trust the company you're using. When they ring the doorbell, you can get a notification on your smart phone, let them in remotely and lock up behind them, all from wherever you are.
Control Appliances Remotely
Some crockpots are Wi-Fi enabled now, allowing you to adjust their temperature from your smart phone, wherever you are. If you're preparing a slow-cooking dish for your guests, but you don't want to be stuck at home for the eight hours it stews, you don't have to. Just use your phone to adjust your appliances.
Adjust the Lights from Your Seat
As the sun goes down, you may want to turn the lights up around your home for security and ambiance purposes. Rather than get up from your guests and walk around your property, flipping on switches, you can use your smart phone to tap into your home automated system. From there, you can control all of the lights in your home. You can also dim the lights to set a special mood when it's time to bring out a birthday cake, or put on a slide show of your vacation pictures.
Communicate with the Delivery Person
Expecting a special delivery for your party, but aren't quite sure when it'll arrive? Don't sit at home waiting for it! Your home automated system can let you know when the delivery person rings your doorbell. If you have a smart doorbell, you can communicate with the delivery person from your smart phone and instruct them to leave the items in a specific location.
Keep the Kids Out of the Kitchen
If you have little ones that like to sneak into the kitchen while you're entertaining, that could be dangerous—they may burn their fingers, or eat something they shouldn't. Activate alarms on the kitchen perimeters once you've moved to the dining room to socialize. Then you'll be notified the second a child tries to sneak in.
Check on Your Kids from Downstairs
If your children are a little too old for a babysitter, but a little too young to go unsupervised for several hours, let your home automated system help you out. Set your kids up with a movie and snacks in one room and keep an eye on them from your living room. Just use your smart phone to check in on the live feed from your surveillance cameras from time to time.
Let People In and Out, Without Going to the Door
Guests may arrive while you're keeping an eye on a pot in the kitchen. Rather than leave the stove unattended, just grab your smartphone and unlock the door for them remotely.
Set the Temperature Without Leaving Your Friends
After you've used the oven, coffee maker and crock pot (not to mention filled your home with warm bodies,) the temperature could get hot in your home. Don't get up and walk to the thermostat; just control it from your smartphone.
The host should get to relax after all the work he or she is putting in. Having a home automated system and smart devices allow you to put on the perfect party and actually enjoy it from start to finish.