How Your Holiday Decorations Affect Your Security System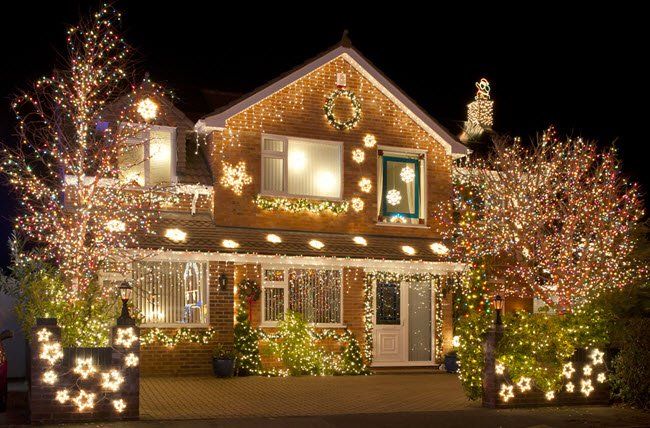 If you're that house on the block who takes extreme pride in your holiday decorations, then you may be setting up your ladder to string twinkles lights all around your roof, blowing up those giant inflatable displays, and getting your snow machine ready. Decorating your property can bring cheer to the whole neighborhood, and really gets everyone in the festive spirit. Major holiday decorations can interfere with your regular security system, though, as well as pose a few safety hazards. Let's take a look at those risks, so you can avoid them, while still enjoying your decorations.
Inflatable reindeer
Those larger-than-life inflatable reindeer that flap in the wind on your front lawn always make children smile, but they also trick your motion sensor property alarms. If one decoration flops too far over the perimeter, it can activate your alarm. Set these up in a place where they cannot interfere with motion sensors.
Power surges
Between motor-powered displays and twinkle lights, your decorations require quite a bit of power. This can, unfortunately, cause a power outage that means not only your decorations go dark, but so too does your security system, creating the perfect entrance for a burglar. Make sure your generator is up and running, so your security system doesn't take any breaks.
Surveillance interference
Be careful where you hang those twinkle lights and how tall your displays are. You don't want your decorations interfering with surveillance cameras. Before setting up decorations, check into the live surveillance from each camera. From there, you can choose strategic places for your displays that won't interfere with surveillance.
Trees creating blind spots
Did you lug a big, gorgeous pine tree into your living room for the holidays? These are nice to look at, but while you're viewing them, you may miss the burglar passing right by your front window because the tree blocks it. Set your tree back from major windows, so you can still look out them and onto your property.
Motion sensor light confusion
Twinkle lights create a lovely ambiance, but they can also create some motion sensor light confusion. Do not use lights that flash and flicker. These can make it very hard to differentiate between a motion sensor light activating, and just a decorative light flashing.
Large lawn displays
It's always best to keep your front lawn displays minimal. Anything as tall as a human can give a real human a place to hide while mapping entry into your home. Stick the life-size gingerbread house in the backyard.
Wreaths around fireplaces
Wreaths look gorgeous around a fireplace, but they are also highly flammable. Both the real thing and the synthetic options can catch fire and spread quickly. Do not drape wreaths around your mantle. Keep these far from any flame.
Large Presents
You've surrounded your tree with massive, empty gift boxes for decoration. Burglars peering in do not know that those boxes are empty, and are probably willing to break in to find out. Keep your tree clear of presents—real or fake—until the actual day you'll open them. Gifts easily draw in burglars.
Faux snow can be useful
If you don't live in an area that sees real snow, putting some fake snow on your front lawn and driveway can actually aid in your security efforts. Burglars hate anything that makes their footprints loud and highly visible. Consider putting a thick blanket of the fake stuff over your front lawn. It makes it harder for burglars to walk onto your property unnoticed.
Everyone appreciates the home that makes an effort with their holiday decorations. They light up the neighborhood. But just know that, while those flashing lights and displays may be entertaining for friends, they can be like target signs for burglars.