How to Stylishly Blend Home Security with Home Décor
Modern home décor styles range from American Farmhouse to Modern Minimalist, but this doesn't mean your home security can't look good while still keeping your family safe.
According to the FBI, a home burglary happens every 15 seconds. About 34% of the time an intruder enters through an unlocked or inadequately secured front door, first level windows (23%) or door at the back of the house (22%).
Doors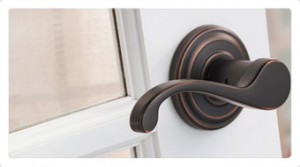 A beautiful front door is one of the first things that visitors see as they approach your home. Since a door is one of the main barriers between a prowler and you, when it comes to exterior doors, light or hollow ones just won't cut it. Replace these easy-to-break types with heavy, solid-core or steel reinforced doors. You can find countless styles and colors to please even the pickiest designer eye.
Door hardware, including knobs, hinges, deadbolts and strike plates, come in designer metal finishes and countless styles which you can coordinate with outdoor lighting and interior hardware to enhance the charm of any home. Color schemes can include: brushed chrome, satin nickel, oil-rubbed bronze, antique brass and more.
With a sturdy door, you need sturdy hardware. Be sure to use grade 1 or grade 2 locks on all exterior doors. Locks should also extend at least 1-3 inches into a high security strike plate or box strike plate. This keeps the door from easily being kicked or pried open.
Easily secure patio doors by using a 3-point locking system that includes a latch or lock, a top pin and a bottom pin or lock. These also come in a variety of styles and designer finishes. Sliding glass doors should have a top pin, foot lock or the classic wooden dowel.
Windows
Beautiful windows are available in a broad mixture of architectural styles from modern to antique. Just like door hardware, there are many options when it comes to window locking hardware.
A great way to secure glass doors, and windows, that is growing in popularity, is to add a reinforcing window film, making glass much harder to break. Film can be tinted or clear depending on your desire.
(See More on Securing Windows & Doors)
Alarm Systems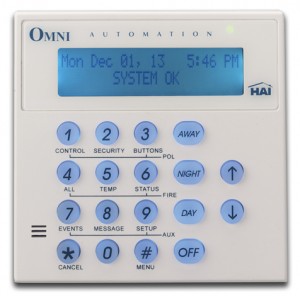 Alarm keypads have evolved from large bulky wall boxes to sleek and streamlined. Keypad designs by DSC and HAI are popular among discerning customers and blend nicely with any décor. The HAI keypad can also be installed recessed into the wall for a flush look.
If you don't like the look, touch pads can be mounted in a hall closet or you could opt for no keypad at all. Today's modern systems can be programmed to utilize your smart phone to control the system locally or remotely.
Window and door alarm contacts can be embedded for a completely invisible look. This is ideal in new builds and remodels where pre-wiring is done before the walls are closed. Wireless is also an excellent option. Slim contacts are rarely noticed, unless you're looking for them, and most can be carefully painted to match a window or door. Have a professional do a home security review to ensure the best system design for your needs.
Smoke & Carbon Monoxide Detectors
Smoke and carbon monoxide detectors are now required by law in most states. They can be integrated with a monitored alarm system, your home's electrical system or stand-alone battery operated.
The Kidde Silhouette is one of the only low-profile standard smoke detectors available. If you're looking to maintain a modern open flow, this is a popular choice. It's perfect for remodels and new builds since it integrates into your home's electrical system. Kidde also makes a low-profile carbon monoxide detector in the same line.
Surveillance Cameras
Often thought of as ugly and boxy, surveillance cameras are designed more with home interiors in mind. Ceiling mounted IR dome cameras now replace bulky bullet-style cameras for 24-hour viewing. Since video cameras tend to deter illegal activity, indoor or outdoor visibility is not necessarily a bad thing. For complete covert video, pinhole cameras can be placed in smoke detectors or in other locations around the house.
In closing
As you can see, when it comes to stylishly securing your family and home, you don't always have to compromise décor for safety, yet, there are times when the benefits of safety will clearly trump style.