How to Safely Get Rid of Your Unwanted Gifts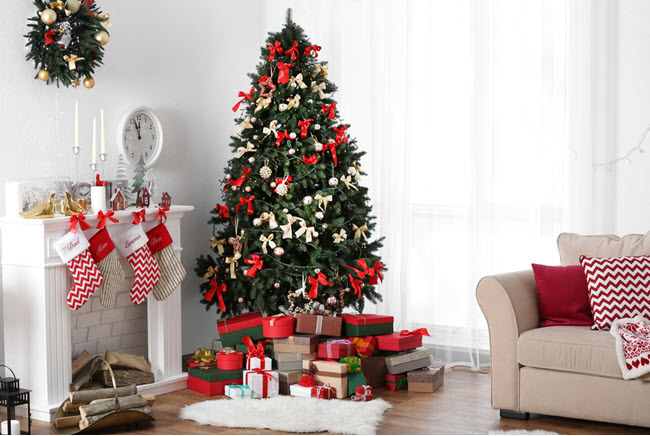 Now that the holidays are behind you, you probably have quite a few new items in your home, some of which you're undoubtedly excited about. But then there are those gifts given with the best of intentions that just aren't for you. Or, you may have gifts you bought for someone else who you didn't wind up seeing over the holidays. Either way, you have some possessions to get rid of, either by selling them, donating them or giving them to friends.
But remember: theft doesn't stop as soon as the holidays do. In fact, burglars continue to look for new, shiny objects for weeks after the holidays. Worried you might be setting yourself up for some harm? Here are a few ways to safely get rid of unwanted gifts.
Don't leave them in the living room.
You may hesitate to find a proper storage space for something you know you're just going to get rid of. But don't leave your unwanted presents on the living room floor, right where you opened them. This puts them in plain sight for anyone passing by the window. Put these items away until you are ready to get rid of them.
Sell through verified sites.
Though you may want to make a quick dollar off of your unwanted presents, it's still worth your time to go through verified sites that protect you. If you plan on selling several items, you should certainly use sites like eBay or others that offer user insurance and protection. Selling on Craigslist and other non-secure sites is always a risk. People may send you a false check, or ask for your address to pick up the item, neither of which is a good idea in terms of your safety.
Confirm donation pickups.
Around this time of year, you'll find a lot of boxes on the sidewalk labeled "For Salvation Army." But not everyone will be kind enough to leave that box there for the appropriate pickup. Don't put your charitable items out on the street. Set up a pickup time with the charity organization and make sure to be home when they come by. You should also confirm that the person at your door is actually from the organization. Large non-profits like the Salvation Army have labeled vans and business cards.
Don't stash them in your garage.
Burglars know that garages are filled now more than ever with new items—both those you want to keep and get rid of. Don't store your unwanted items in the garage. Even though you may not care much if someone steals that blender, don't forget about the more valuable items you store nearby. The wrapping paper on the unwanted gifts might catch the burglar's eye, and the higher-priced items in the garage could keep him in there longer.
Don't post about it on social media.
It is tempting to write a post on social media, perhaps advertising something like, "I have new video came controllers I don't need. Message me for details." But don't forget about the strangers you've friended and followed over the years who you don't actually know that well. You shouldn't broadcast the fact that you have valuables in your home to hundreds of strangers. Instead, create a private event on Facebook, put the items you're giving away or selling in the description and invite only people you know.
Don't put things on the balcony.
If you don't want to keep a substantial number of gifts you received, you probably don't want those items taking up any space in your home. This may mean you resort to stashing items on the balcony, in the backyard or anywhere they're out of sight for now. But, again, just because you don't want these things doesn't mean a burglar won't want them. It's very easy for someone passing by to see valuables on your balcony, porch or in your yard. Store these things away until you're ready to dispose of them.
One man's trash is another's treasure, and since you'd rather that treasure went to the right person, be careful with the way you handle unwanted gifts.