Home Security Technology and Tips for 2013 Home Buyers
When looking to purchase a new home, prospective buyers are usually concerned issues like the number of bedrooms and baths and the functionality of the kitchen. If home security ever comes up, it tends to come in the form of a simple question: "How safe is this neighborhood?"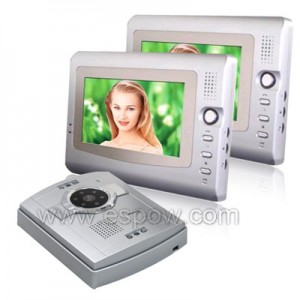 Ironic, isn't it? For the vast majority of us, our home is the most expensive single item we purchase and it holds not only all of our belongings but everything we hold most dear. And yet, we tend to overlook ways to keep it best secured.
If building a new home, Canadian security consultant Frank Fourchalk pointed out that home security measures should be included with the plans of granite countertops and walk-in showers.
In a Vancouver Sun article, Fourchalk recommended that every new home should include a built-in video intercom system. "With the decreasing costs of this type of technology, there is no excuse not to have one of these units installed as standard equipment. This allows you to view and speak to visitors at your front door without having to open it," he wrote.
Because burglars enter your house through windows and doors, these items should be purchased not only for aesthetics but also a barrier to prevent unwanted guests. Doors made of fiberglass may be the safest. According to the DIY Network, "Steel doors have the image of being the most secure of all entry doors but reality doesn't always support this image. You can take almost any knife or pointed object and punch right through the thin steel in most steel doors. You can't do this to a fiberglass entry door. If someone tries to kick in your front door, they may not get in, but they will undoubtedly dent the door if it is steel. Again, this won't happen with a fiberglass door. Fiberglass doors are just as secure as steel doors."
However, Consumer Reports found that the material the door is made from doesn't matter if the lock system fails. "Use a lock with a 1-inch-long deadbolt and a reinforced metal box strike. Use 3-inch-long mounting screws so they lodge in the framing beyond the doorjamb. And don't overlook the door that leads into your house from the garage," the article stated.
Don't forget about the security of the garage door, either. Try to avoid garage doors with windows, but if you insist on having a little natural light in your garage, consider frosted windows that let in light but won't show a passerby whether or not your vehicle is parked inside.
All windows should include locks and screens. The screen can be turned into an alarm sensor, which can provide the first warning in a break in. You should also include windows with a security film. The film is invisible, so you'll never notice it, but if someone tries to break the window, instead of shattering, it will crack, much like a windshield.

The way you landscape your home should also take security into consideration. Keep bushes and trees away from the side of the house. They provide a hiding place for potential burglars. Also, while you might think your windows are too high for a burglar to reach, the landscaping or outdoor furniture could be easily turned into a makeshift ladder if situated too close to a window.
If you are buying an already existing home, ask about what the current homeowner has done to upgrade security and make notes about how easy it would be to make your own security improvements. Locks should always be changed when moving into a new home, so this is a good time to upgrade. You may also want to consider replacing the garage door opener and replacing the locks on gates. While you may get the keys from the previous owners, you never know who else may have a set of keys or extra garage door opener or knows the codes to get inside the house.