Home Security Cameras that Withstand Harsh Weather Conditions
Cold weather conditions are not only hard on cars, but can also present a number of challenges for exterior home security cameras. If your CCTV camera isn't up to the challenge, you might just have moisture and snow ruining your newly purchased camera. If you're a residential homeowner or business owner, its best to invest in a quality cold weather camera with a sealed weatherproof housing. (Weather Resistant Surveillance Systems)
Weatherproof camera enclosures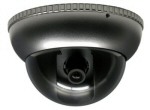 Heated outdoor weatherproof camera enclosures make a good choice and can keep your home security system cameras warm and functioning, even in the coldest of weather. Platinum CCTV sells an exterior camera that features a weatherproof enclosure and a 24 VAC automatic heater element and blower. This unit is sure to keep your camera safe and is of professional quality. It's the same kind of design that shopping malls and office buildings rely on. This surveillance camera also comes complete with a mounting bracket and gives you the ability to tilt and position.
Swan style weatherproof cams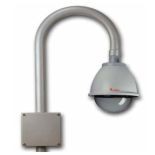 Most cameras don't come with the heated enclosure and some enclosures require certain style fit cameras. There are many styles online too choose from. CCTV camera pros sell a swan style weatherproof PTZ housing that has a built in heater and fan. Another benefit is a flame resistant dome top that is virtually vandal proof. The swan style cameras can easily be mounted to any wall, unlike side open hinged lid models. Bullet cameras are yet another great outdoor weather application, as they are unobtrusive and well hidden. Sony makes a super HAD CCD camera that performs like magic in low light or harsh weather conditions.
Overview
Whichever style you choose, make sure the camera itself is high resolution and has IR capability to give you the best quality picture. Today, weatherproof cameras are becoming more affordable for the average homeowner. You can pick up a weatherproof outdoor security camera that includes night vision and a clear crisp picture for under $150.00. Most can be used indoor or outdoors and be directly linked to a TV/DVR unit for recording. If you don't have motion or heat activated lighting in your central home security system, it's nice to know that a weatherproof IR camera can give you night vision capacity even in dark and rainy conditions. Monitoring your exterior yard and doors is an important capability of an outdoor camera. Not only for vandalism reasons, but in order to keep an eye on outdoor displays or window screens that can be blown away by high winds. You don't have to pay hundreds of dollars on cheap exterior cameras that will only break the moment you decide to use it in harsh weather.