Home Safety Tips for the Back-to-School Rhythm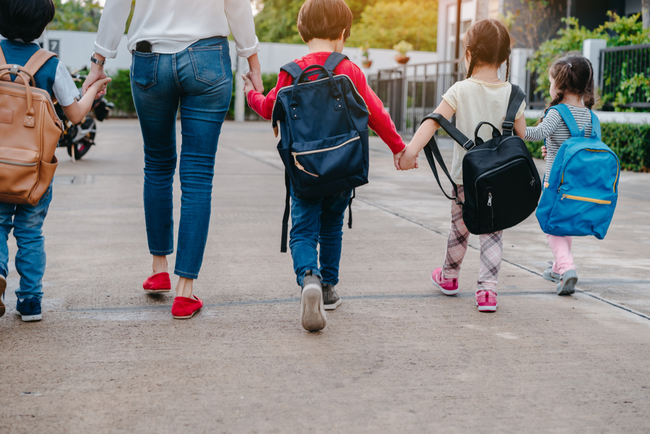 It's that time of the year again when children are stocking up on pencils and paper, students are rushing to sign up for their preferred extracurricular activities, and school principals are calling assemblies so all new teachers can introduce themselves to the kids. Back to school time is an exciting time, full of renewed energy. But it's also a time full of change for everyone. During the summer months, children usually aren't as busy. You can try to keep them occupied with camp and other activities, but their lives just aren't quite as scheduled as when they take the 7am bus to school and get home from sports practice at 6pm. So your home safety tactics and routine should change, too.
Home automation for a vacant home
Not that children are exactly effective security guards, but older children and teens at home may have been deterrents for potential burglars. If your kids were home in the afternoon while you were still at work during the summer, simply seeing lights go on & off and hearing voices in the house may have sent a burglar running. Now the home will be much more silent, so it's important to utilize a home automated system to activate lights, music, appliances, and anything else that can make the home appear occupied.
Lock up remotely
When school is back in session, entryways get a lot more use. Everyone is coming and going at different times, between the student with morning tutoring sessions and the one with evening debate team. It's easy for someone to accidentally leave a door unlocked, believing someone is still home or that someone else will lock it. Set up your home automated system to notify you if a door or window is left open or unlocked. Then, you can use your smartphone to remotely lock up.
Go over safety rules
You may allow older kids and teens to be home without supervision, but you should still go over proper safety rules. Instruct them never to answer the door for a stranger, even if that person states that they know you. Unless you explicitly tell your kids to expect a certain guest or it's a good friend or family member they know and trust, they should not answer the door. Meanwhile, you can install a smart doorbell and remotely speak to the person at the door through your smartphone. This will help you feel more secure knowing who is coming around when you aren't there.
Refresh kids on walking home safely
If your children will be walking home from school, go over safety rules for this process too. They should never accept rides from strangers or go into a stranger's home for anything. If they feel unsafe, they can run into a business or a trusted neighbor's home. And they shouldn't share details about their life with strangers they meet on their walk.
Designate a secure neighbor
Speaking of going into a trusted neighbor's home, make sure to designate a secure neighbor (or a few). Your kids can go to this person's house if they ever feel unsafe. Should a fire break out or should they come home to find signs of a break-in, they can go to this neighbor's home.
Show kids how to use the alarm system
Show children how to use your alarm system. In an emergency, it's important that they know how to activate alarms, lock everything, and call for help.
Share your schedules
Everyone should become familiar with each family member's schedule. If you know the habits and routines of everyone in your home, then you can quickly identify if something is wrong. Like if you get a notification that someone has entered your home during a time when nobody should be home.
The air is buzzing with back to school excitement, but it's an exciting time for burglars in a different way because they know your routine is changing. Use these tips to keep your kids and home safe all year long.