Home Automation Systems 101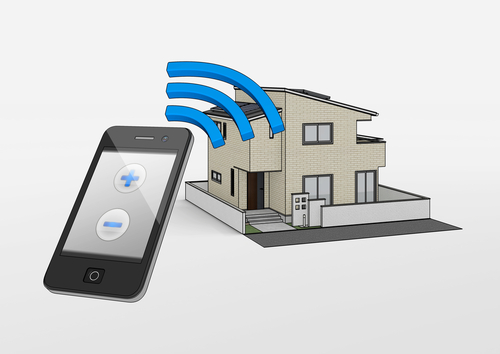 We live in a very technologically driven world where much of what we do is on a smart phone, laptop, or tablet.  When you think of home automation, you might think of something like the Simpsons' Halloween episode where the house could do everything imaginable for its residents.  The system could talk to the Simpsons' family, control the lighting and doors, water the plants, fix meals for the family, and even do the dishes.  One day we might get to that point where we have complete automation technology, but, our current technology is not that far off.
Today's home automation technology allows homeowners to have convenience, energy efficiency, and security all in one automated system.  Although home automation systems don't have all of the features of the Simpsons or Jetsons, it does allow homeowners the ability to control lighting, temperature, some appliances, and their alarm system from a web enabled device.
Remote access is a perk of most automated systems. This allows homeowners and renters the opportunity to control features of their homes and alarm systems all from the convenience of their smart phones.   It also allows homeowners the ability to remotely monitor their home from almost anywhere in the world.  Whether you are on your way to Disney World, sitting in traffic on the freeway or staying late at the in-laws, you can rest assured that your home is being protected and accessible through a smart phone or tablet.
However, home automation and remote access are not always one in the same.  As mentioned, both systems utilize wireless technology to communicate with features of your home and security; the big difference has to do with price.  Since home automated systems have countless add-ons and options available for the homeowner, naturally it is the more expensive of the two systems.  Most of these costs are upfront equipment costs of adding additional cameras, motion detectors, light switches, and other options while the only equipment needed for remote access systems are new thermostats, light switches and plugs.  Another difference is that home automated system allow fore more functionality than remote access.  For instance, if a homeowner has a coffee maker that can connect to the internet, he or she can set up that coffee maker to start making coffee at a specified time in the morning so that it is ready when the homeowner comes down the stairs.  This is just one example, as the list could go on and on with anything technologically capable.
Home automation is not only great for homeowners, but also those trusted persons who need access to their home. Foe example, this technology helps eliminate that horrible feeling and dreaded fear when a homeowner realizes they don't have their keys.  Being able to unlock the doors for a child who is home early or for an unscheduled guest is a great selling point.
Comfort through temperature, and energy efficiency are two more selling points for companies that offer home automation and remote access systems. With the touch of a button a homeowner can control his or her thermostat and lighting from anywhere in the world. Having each room being controlled to maximize thermal comfort is amazing.  For instance, imagine that it is winter and you want to have the bathroom temperature raised to a certain temperature before waking up or maybe you get hot flashes in the middle of the night and want the temperature to cool you down.   This can all be done through a home automation and remote access system.
Home automation systems can also generally give its users a greater sense of security.  With these types of systems, homeowners can have full control of their entire home security system. If a homeowner doesn't like coming home to a dark house, then they have the ability via a web enabled device to turn on their lights from almost anywhere in the world.  Homeowners also have the ability to set up this timer for lights in their user account.  These systems allow homeowners to set up alerts that inform them of their home security's status by telling the homeowner what time their children come home from school, who has opened the door, if the air filters need to be changed, or the status of fire and carbon monoxide detectors.  The list of available options goes on and on.
The home automation and remote access systems are ground-breaking and eventually will be in every home in the United States. If you haven't already, it might behoove you to contact your home security provider today and ask about home automation technology. Also be sure to check out our list of top security providers here in the event that your current provider doesn't offer the technology.