Gun Laws Unlikely to Change Due to Aurora Tragedy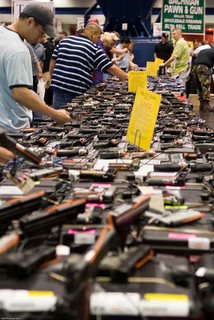 Despite the recent tragedy in Aurora, Colorado, where a heavily armed man gunned down movie-goers while they watched "Dark Knight Rises," gun control policies are unlikely to change in favor of stricter gun laws.
According to a recent article by the Washington Post, statistics over the past 20 years have shown a decline in the public's want for stricter regulatory measures on the sale of firearms from a majority (78%) wanting stricter controls in the early 90's to 43% of the public wanting stricter gun laws as of 2010. This no doubt has much to do with the tremendous increase in gun sales for many of the major gun manufacturers for fiscal year 2012. (Read The Booming United States Firearm Industry)
After the recent Aurora tragedy, White House spokesman Jay Carney was asked by the Huffington Post whether the mass shooting should prompt a new review of gun laws. Carney declined to comment and reiterated Obama's existing support of "common-sense measures that protect Second Amendment rights of Americans, while ensuring that those who should not have guns under existing law do not get them."
President Obama had been working to ban semiautomatic weapons early in his political career as an Illinois state senator but over time has taken the stance of protecting American's second amendment rights.
When used as a means of protection, as was constitutionally granted to American citizens in the Bill of Rights, guns are an essential piece to many home security strategies. Unfortunately, in the wrong hands, a gun can turn into a tool which ultimately only serves to magnify the underlying tendencies of the person using it.