Comcast Launches Home Security Service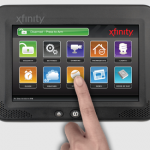 Internet service provider Comcast Corporation has debuted their very own home security monitoring system branded as Xfinity Home. This new service will offer customers the smart home capabilities to remotely track a home's temperature, turn lights on and off, as well as watch the video feed from wireless cameras placed in their homes, receiving a text message or email in the event that the monitoring devices are triggered.
With an introductory rate of $199 and a monthly service charge of $29.95 ($39.95 for the preferred package), Comcast will challenge current market leaders in the home automation and home security markets as many of these established services offer similar products in the same local markets.
Some of the customized settings offered by Xfinity Home are email and text alerts when doors are accessed or when a certain level of activity is detected by the motion detectors. Once an email is received, the customer can use their smartphone or check online to see if a window or door was accessed.
Comcast also plans to add more features and uses to the home automation portfolio already offered by their Xfinity Home system, such as a carbon monoxide detector.
Comcast offers services to both residential and commercial customers in 40 states and the District of Columbia and plans on expanding their Xfinity Home service in the years to come.