Comcast is Pushing for Home Automation and Security Singularity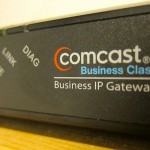 Comcast Cable Communications, LLC, (NASDAQ: CMCSA) filed a recent patent application with the US Patent Office which describes a number of methods which incorporate the alarm system of vehicles into a centralized management platform.
The application states that they want a device used for, "…determining, by a home security computing device, that a homeowner's car is parked in the home's driveway or garage; detecting an alarm signal from a car alarm system of the homeowner's car; and in response to the car alarm signal, triggering a home alarm signal."
The home security computing device referenced in the patent application is most likely describing a recent product release known as Xfinity Home. Xfinity Home acts as a centralized security and home automation hub which will let you control multiple electronic devices from a touchscreen control unit.
The patent application goes on to say that, "Modifications may be made to add, remove, combine, divide, etc. components of the computing device," which suggests that the computing device will have the potential for home automation plugins and application augmentation.
Home automation and home security have seen tremendous growth over the past decade and with Comcast's can easily introduce new related products to its customer network as the largest provider of cable and internet in the majority of homes across the United States.
Comcast had revenues of $55.842 billion going into 2012, up 47% from $37.937 from 2010 thanks in part to the recent acquisition of NBCUniversal.