Caught on Camera | $40,000 in Jewelry Stolen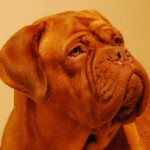 Four men and one lookout were caught on camera robbing the Roosevelt Gold Exchange in Cicero, IL Monday, August 6th, and made off with over $40,000 worth of jewelry reports the Chicago Tribune. The men arrived in a white van and entered the gold exchange at 1:30 p.m.; two of the suspects distracted an employee through the protective glass while another broke in through the back and attacked the employee, letting the others in.
"They have a crowbar in their hand, and they're telling him they're going to kill him. It's terrible," Cicero Town Spokesperson Ray Hanania told ABC Chicago. The men put a pillowcase over the employee's head and bound it with a phone cord and then proceeded to steal over $40,000 in jewelry.
Once they grabbed as much jewelry as they could, they went to grab the security tapes so they didn't leave behind any incriminating evidence, and were met face-to-face with a large 110-pound Mastiff named Max. The dog thwarted the criminal's attempts at stealing the security footage, and they made their escape with the jewelry in less than 11 minutes.
Watch the surveillance footage below and if you can identify any of the suspects in the video then please call Cicero Police Detective Joe Melone at 708-265-2130.

Photo Credit – Not a photograph of the Mastiff mentioned in the above news article.