Born to Burgle | Doris Thompson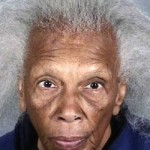 When you hear that someone has a 25 aliases, has been imprisoned nine times for burglary, and a 20 page rap sheet that goes all the way back to 1955, the last person you would expect it to belong to is an 82 year old woman by the name of Doris Thompson.
Thompson was recently arrested in an El Segundo, California, hotel and charged with the burglaries of 8 doctors' offices after a Torrance detective recognized her in the security footage based on a police bulletin from several years previous to this incident.
"That's her M.O.," said Los Angeles County Deputy District Attorney Paulette Paccione. "What she does is she goes in with her little burglar bag. She takes cash, stamps, whatever she can find."
Torrance Police Sgt. Robert Watt explained that Thompson would enter a doctor's office and hide until after closing and then search around the office for keys to the cash box. According to Watt, Thompson stole around $17,000 from all of the doctor's offices.
"I don't think this will stop her from doing this again. She's not really apologetic about it. This is her thing," Said Paccione. With a rap sheet as big as hers it is probably a safe bet to presume she will strike again when, and if, she's released in her lifetime.
Thanks to the growing use of surveillance system technology Thompson is now behind bars with an $80,000 bail and serves as a vicarious lesson to other would-be burglars who want to lead a life of crime.