Best Home Security Providers Offering 2GIG Equipment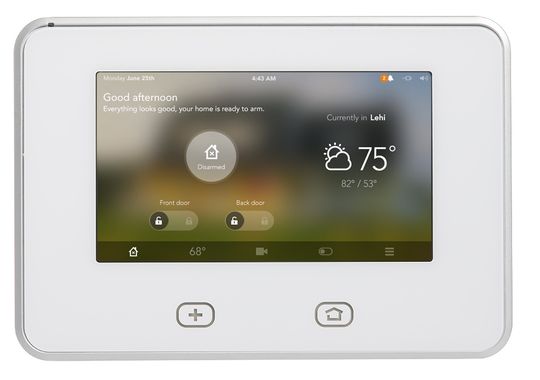 Landline telephone service is disappearing at an alarming rate throughout the United States, and even if you have a landline, they are vulnerable to being cut by a potential intruder. Customers are also demanding more from security companies because there are so many different packages and options out there being offered by companies. Home automation systems are becoming mainstream in America because they bring convenience, safety, and savings to customers. Lastly, consumers, like you, want and expect information as quickly as possible. We live in a digital world where much of the information we receive is via our smartphone and to have access to your security system via your fingertips at all times is a huge selling point.
2GIG equipment is the most advanced security and home management solution in the security industry and has won countless awards for its products. 2GIG's equipment is leased by security companies such as Vivint, Protection 1, and other security companies.  Equipment ranges from image sensors to wireless carbon monoxide detectors. One of the most popular products that are leased by Vivint and Protection 1 is the wireless self-contained, all-in-one security and home management control panel. These control panels have wireless sensors, home automation control of Z-wave thermostats and light switches, two-way voice between your house and the monitoring center, and a LCD touchscreen.
Vivint
Vivint, of the largest home automation companies in North America, offers high quality equipment from 2GIG. In addition to the mentioned control panels, customers can also look forward to recessed door contacts, wireless smoke/heat alarms, glass break detectors and CT-100 thermostat touch screens, just to name a few. What's more, you can build your own custom voice responses by stringing together words found in the built-in word bank such as basement door open, garage door, so that you are aware of when a door or window opens. This is a huge selling point for families with young children who are being adventurous.  This technology now alerts you when a door is open so that you can be aware of who is and who isn't in the house at all times. The touchscreen panel for the thermostat and main control panel is also ideal for the younger generation who love doing everything by touching a screen.
Protection 1
Another company who leases their 2GIG equipment is Protection 1, which is the nation's largest full service security provider. Protection 1 offers 2GIG doorbells, panic buttons, control panels, and other equipment necessary to protect your home.  These panic buttons are great to have in say your bedroom in case your master control panel is on another level of the house.  The control panel also offers a date, time, and weather display that provide warnings such as for flooding, severe thunderstorm, and tornadoes.  The doorbell from Protection 1 and Vivint also allow you to be notified via e-mail or text-message about when your doorbell has been rung. Another 2GIG equipment that is offered by both of these companies is the wireless glass break detector which can monitor an area that doesn't have sensors on it or can be used in case someone breaks the top part of the window that otherwise wouldn't signal an alarm.
SuretyCAM
SuretyCAM is a smaller company from Ohio that offers the same 2GIG equipment that is offered by larger companies such as Vivint and Protection 1.  This shows that there is a movement away from the old number button display still offered by some companies into a revolutionary and progressive touchscreen which will be installed into more and more houses every year.