Alarm.com Wireless Monitoring Review
← Back to the Best of 2012 list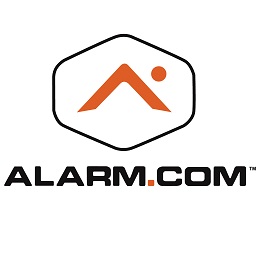 Many security companies use expensive mobile device monitoring that depends too much on a broadband Internet connection. Yet, one company actually proves that they can integrate effective security from a mobile phone.
Alarm.com takes advantage of wireless cellular lines to provide some of the most reliable 24-hour monitoring from a station to a person's cell phone.
Cellular Home Security
A cellular phone system may seem like an outdated way for a homeowner to check on his or her home security. However, cellular lines are also faster and much more reliable for communicating security messages. Broadband networks are more notorious for shutting down at the most inconvenient times, when people need it the most.
Rather than using wireless remote technology, alarm.com simply sends text messages. Whenever a security system with alarm.com detects unusual activity, it sends a text to the homeowner's cell phone to indicate a pending alarm. It sends the message before the house alarm even sounds.
If a person doesn't deactivate the alarm, a representative from a local monitoring station calls the person to notify him or her. Thus, people will always know whether a burglar is trespassing on their property. If the homeowner doesn't respond or he/she forgets their password, alarm.com will send the authorities to check on the house.
Preferred Settings
With all that said, there are some hairy problems within this strict monitoring system. Owners should first check the settings for alarm.com on their central alarm panel. They have to make sure that the notification system works the way that they want it to. Otherwise, it will always send a text message whenever anyone triggers the alarm when the system is armed.
This system could become very annoying, especially when housekeepers and electricians can trigger the alarm regularly during work hours. People can still disarm their alarm via their cell phone. However, these false alarms could aggravate hard-working homeowners who often have people visiting the house to drop off packages or to take care of children. Thankfully, people can always change the settings of the alarm to fit their specific schedule, to prevent any false alarms.
Streaming Video Monitoring
A technician could also set up video monitoring, so that mobile phone owners can watch live streaming video from their home cameras. This high-speed technology still isn't quick enough to keep the video running smoothly without any lagging. Still, it is nice to see that this company is keeping up with the demands of modern technology.
Pricing
Alarm.com is a somewhat pricey security service, because it is a system monitored from outside stations. The $30 monthly may still take a bite out of people's wallets, but it is much more reasonable than ADT's monthly rates for monitoring. Considering how many of the dealers try to trick people into signing a rip-off contract with extra fees, alarm.com is a much more reasonable bargain.
Overall, alarm.com is a solid security company with many workers who specialize in the home security industry. If people are looking for a new security system that takes advantage of advanced technology, alarm.com will deliver very effective monitoring service for a lower price than a person might expect.