8 Safety Tips for DIY Home Playgrounds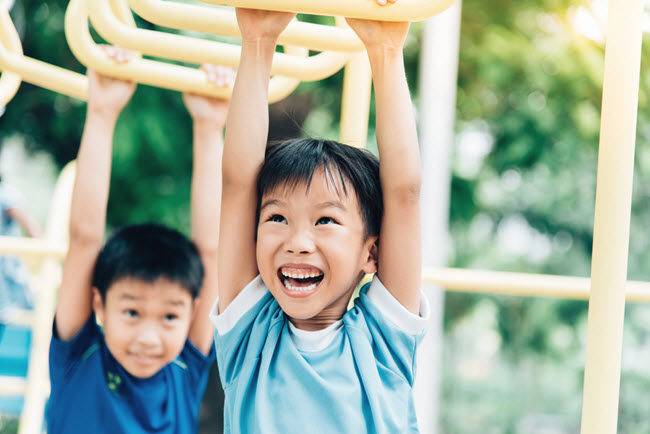 If you plan on building a playground at home, your children will love you for it. You'll be giving your kids an endless outlet for their energy and you'll be doing something priceless for a parent: reducing the need to go to the park.
When you have a home playground, you can stay away from some of the suspicious characters you might meet at the park and keep your children away from the bacteria found on public play equipment. That being said, when you go to the park, you have set aside time to watch your child play, whereas at home, you can't always keep an eye on your child. You're also responsible for building a structurally sound playground, something you can never be entirely sure of unless you're an especially skilled builder.
But don't worry, we've got tips that should help you this summer when you decide to build the playground of your children's dreams.
1. Use Absorbent Grounds
Build your playground on an absorbent material, like rubber mulch, wood chips or sand. Make sure the absorbent material runs at least 12 inches deep so it can sustain impact from heavier children, or ones who fall a long distance. A certified playground safety inspector can advise you on exact measurements and the best surface for your property.
2. Schedule Lights at Sundown
Schedule lights to turn on at sundown. You may not even notice the sun slowly setting if you've been with your child on the playground for hours, but even the slightest shift in the sun can make it harder for your child to see the rails on a ladder or the distance between his feet and the ground. If you do not want to have your lights on all night, at least activate motion sensor lights. Burglars sometimes use home playgrounds to hide while they scope out their path into the house, but motion sensor lights will make it hard for them to do so.
3. Have a Locked Gate
Do not allow your children to use the playground unsupervised. You can't always trust children to do what you ask, so you should also set up a locked gate around the playground. Make sure the gate is far enough away from the actual equipment, so that a child jumping off a swing or slide doesn't hit it.
4. No Loose Accessories
Don't allow your children to play on the play set while they're wearing scarves, long necklaces or any items that could get caught on equipment. Even loose clothing can be dangerous if it snags on a piece of equipment.
5. Check for Damaged Parts
You should periodically inspect your playground equipment for loose, fractured or rusted parts. Loose parts can be a major hazard since they could cause the equipment to give out while a child is playing. Fractured pieces could cut or splinter a child. Rusted parts can cause an infection if a child with a cut or open wound touches them.
6. Set Up Your Playground Far from Structures
Set up your playground far away from structures including your home, fences, gates, sheds, the garage or barbecues. Should a child fly off the swings, you do not want them to hit a structure. The absorbent surface should also extend as far out from the equipment as possible.
7. Test Hot Metal on Sunny Days
During the summer, you should always touch the metal parts of your play set to make sure it's safe for your child to play on it. Remember that anything from the metal "ropes" of the swings to the bolts on the slide could be too hot for contact. It's best only to have your children play later in the day when the equipment has cooled down, and to make sure their skin is covered when they play.
8. Turn on Your Surveillance Cameras
Ideally, you'll never let a child play unsupervised. But even when you are watching your child, accidents can happen fast and you may not see exactly how your child hurt themselves. If you look at the archived feed on your surveillance camera, you can see where the design flaw is that caused the problem and fix your play set accordingly.
You'll give your child years of charming memories if you build a home playground and, if you do it right, you can feel confident in their safety and security.