12 Questions to Ask Potential Tenants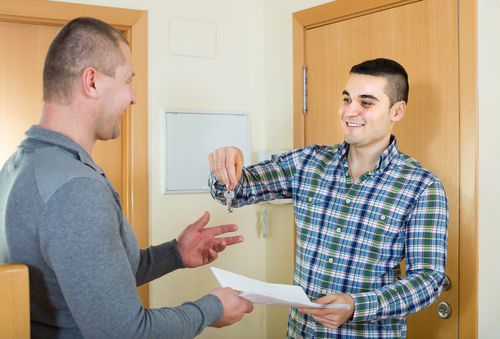 Whether you're renting out your own home to make a little extra money or renting out an additional property, it's important to get to know your tenants pretty well before approving their applications. If you want to remove an occupying tenant before his or her lease ends, you'll have to deal with a headache-inducing battle involving hefty legal fees. Ideally, you should try to find tenants you love — right from the start.
Here are 12 questions to ask potential tenants.
Where did you live the last five years?
Have your tenant write down the move-in and move-out dates of all his homes over the last five years. You're doing this just to make sure he hasn't moved every six months to a year for the last five years.
Can you cover the move-in expenses?
If you require a security deposit, as well as first and last month's rent, ask the applicant if he can afford to pay that upon move-in. If he hesitates, or asks if he can give it to you late, it's a sign he might struggle to pay rent on time each month.
Is it okay if I run a background check?
If the person prefers you don't, move on to another tenant. If he says okay, but over-explains several things you're going to find in that background check, consider that a red flag, too. If your potential tenant has an outstanding parking ticket or something minor like that, it's probably nothing to worry about.
Why did you leave your last place?
There is no right or wrong answer, but the answer should be short, sweet, and clear. If the applicant does a lot of explaining, is vague in his answer, or says he'd rather not tell you, move on to another applicant.
Do you have pets?
It's an important question to ask. If you're okay with pets, you want to make sure to go over any rules with the applicant before moving forward. If you're not okay with pets and the applicant has one, you may as well end the interview there.
Do you smoke?
The reality is that you can often tell if someone smokes. They may smell of cigarettes, have a pack hanging out of their pocket, or they may have just put out a cigarette before walking in the door. The important thing is that they are honest. If you have a no smoking indoors policy, now is the time to tell them so there is no confusion later if you dock their security deposit for indoor smoking.
What do you do for a living?
Ideally, you just want to hear that the individual has a steady income. Even if he has a lot of money right now, if he is unemployed or goes through regular gaps of unemployment, he may run out of money quickly and struggle to pay rent.
Have you ever been evicted?
There are two sides to every story, and if someone has been evicted, he deserves the chance to explain that to you. But this is a very important question to ask.
Can I ask your previous landlord for a reference?
Ideally, you should only take applicants who are happy to provide references. While some may have very good reasons not to have a reference, they still put you in a difficult position if you can't get someone else to vouch for them.
Are you very social?
No applicant is going to come out and tell you that he throws large parties every week, but you may be able to deduce that from his answer. If the tenant becomes nervous when you ask this, rambles, and says things like, "I like to have people over but, I make sure things don't get out of control" you may be looking at a partier.
How much do you make per month?
It's important that the tenant make at least three times the rent. After groceries, utilities, insurance, car payments, gas and entertainment, people need at least three times their rent in income to survive.
Would you like to ask me anything?
You want tenants who do their due diligence, too. That means they care about where they live, and are just as discerning as you are. Hopefully your applicant has some questions for you, rather than just saying, "No! Where do I sign?"
Your property is a major asset and you have the right to know who will be living in it. Asking these questions should help you get a better picture of your applicants.
Happy renting!