Smith Thompson Home Security Q&A Review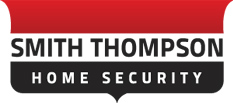 Established in Texas during the late 1970′s, Smith Thompson is the largest independently owned security company in the state. The owner suffered a devastating robbery prior to founding the company, and has dedicated himself to preventing such a scenario for others. The company offers a specialized wireless system to prevent any chance of outages in coverage.
Company
Monitoring Services
Available Benefits
Pricing
Smith Thompson

Burglar Monitoring
Multi-Service Compatability

Uplink Cellular Transmitter
Wireless Keyfob Remote
Monitoring Without a Phone Line

16.95/mo
What kind of monitoring services does Smith Thompson provide?
Smith Thompson uses cellular wireless monitoring to monitor both new and existing alarm systems through an Uplink transmitter to customer's alarms which communicates directly to their dispatch center.
The company provides these transmitters at no extra monitoring cost, and notes that dropping land line connectivity saves costs, and covers security services even if a land line is down or the power goes out. The company notes that their Uplink transmitters feature digital encryption and dual band GSM capacity, and can access all major phone networks. The Uplink transmitter is installed inside customers homes, and it operates independently of internet or cell phone connections.
Smith Thompson also offers an LCD key pad, key fob, and wireless door, window, heat, and glass break sensors.
What benefits does Smith Thompson provide?
The company's security system offers a home owners insurance discount. The overall benefit is that Smith Thompson provides alarm monitoring without a phone line, and doesn't require a contract. This Texas behemoth pledges never to out source monitoring or customer support.
The company offers a 12th month of service free, if customers prepay the first eleven months of a year long contract. And if a friend or relative is referred and switches to the company's service, a free month of monitoring is given to the customer.
What technology does the company offer?
Smith Thompson's Uplink transmitter is unique in that it can connect to any phone system. Whereas some security companies monitor alarm systems through internet based phone services such as Fios, Vonage, or Time Warner, reliability issues resulted in Thompson's cellular monitoring.
What about cost?
Smith Thompson  features an economical monitoring plan at $16.95 a month with no long term contracts. This appears to be a cost sensitive security solution. The company asserts that it does not increase consumers' monitoring rates when they upgrade to cellular monitoring. Customers pay pay no additional monthly fees or air time charges, keeping the plan rate the same amount. The only additional cost the price of the Uplink device itself, noted as a one time cost of $89 for new accounts, including both installation and testing.
New customers without any existing security system are offered complete system installation for $299, with the equipment owned by the consumer rather than leased.
Note: in Texas, a permit is required for the use of a security system and monitoring service. Without an alarm permit, most cities won't respond to an alarm signal or monitoring service without a registered permit in place, or may respond but fine users up to $500. Applying for a permit is free, and available at local police departments, and on city web sites. Smith Thompson requires customers to call them with their permit number and expiration date.
Overall Impression
Smith Thompson was founded by a man with a personal stake in the security field. In Texas, the company has a solid reputation and offers a reliable wireless monitoring service at a reasonable rate.