Securing Windows & Doors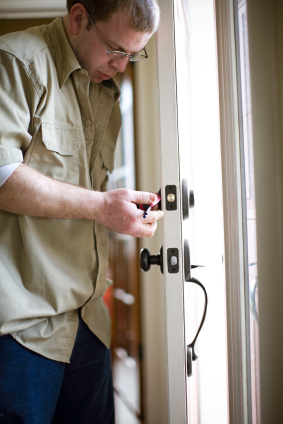 Securing the windows and doors in your home seems an obvious move to 
protect you and yours
, but leaving a window unlocked is a very common mistake for vacationing Americans, and combined with lack of attention to other areas of security can lead to a rude homecoming after a pleasant vacation, as you arrive back home to find your palace of serenity in a shambles with your valuables missing.
So step one, whether you are home or away, keep your doors and windows locked at all times. Sometimes all a would be thief or rapist needs is an unlocked door for them to feel bold enough to intrude on you abode. And be sure to teach your children the same, so they can apply this when they are away from the nest, at a sleepover/school trip/tournament or away for college.  If you have an older home and the windows don't lock, you can buy a lock-bar for $15-30 at Home Depot, Lowe's or Ace Hardware. These bars can be used for sliding doors and a wide variety of windows to not only keep them closed, but also to create a barrier to keep intruders from entering your home even if they break the glass.  They are basically like the club for your car's steering wheel and can come with a key lock in the higher price ranged options.
Having cameras pointed on the outside of your windows and doors is never a bad idea to deter intrusion and also to record it if you are away so you can have a shot at catching the criminal after the fact.
Prison-like bars on windows are very common in a lot of areas, but really present a problem when it comes to those inside the house trying to escape fire or other danger, should the situation require it, so they are not recommended.
Motion sensitive or timed lighting can be helpful at night or when you are away traveling to keep bad elements from seeing your home as a target. I suggest timed lights vs motion sensitive ones or a combination of both, just to keep bad seeds on their toes and away from your abode.
Safety glass can be good in certain instances to prevent a thief from smashing a window and breaking their way in, but again, like the bars, it can end up serving to keep your family locked into the home in a fire or other hairy situation so can be more problematic than they are worth in some situations.
For doors, deadbolt, chain lock and knob locks all are good together and be sure to get the most solid door you can find, ideally with metal in it's make-up for security. If you have a door with a window on it, replace it as soon as you can, as it makes an easy target for a would-be intruder. You can also get door alarm sensors at most Dollar Tree stores for $1 that can be set to let out a painful high pitched beep when activated and the door is opened.