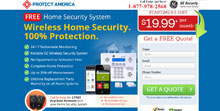 One of the things that prevents many people from having a monitored home security system is the cost. The fact of the matter is that home security can be expensive. One security company, however, has the consumer's interests at heart, and is able to do so while still offering world-class protection. Starting at just $35.99 a month, that company is Protect America.
Quality wireless security equipment
At the heart of Protect America's wireless home security system is GE Wireless Security equipment - including all of the latest home security technology and possible upgrades! This equipment has become the industry gold standard for home security.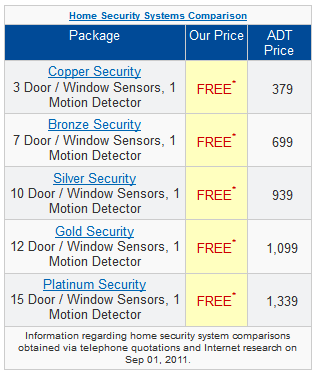 Call Protect America now at
855-965-2032
Getting started for free
The copper package from Protect America gets you started on the road to home security with no upfront costs, and some of the most competitive monthly fees around. In this package, you get:
A standard control panel
Three window or door sensors to protect your external doors
An infrared motion detector to be used inside
Security window stickers
A security yard sign
Monthly monitoring options start at under $20 for a landline option, all the way up to $42 per month for a cellular monitoring option.
Limited Time Offer - 2 FREE Keychain Remotes!

If you sign up to become a Protect America customer during this month, they will give you 2 FREE keychain remotes!
Not just budget security - Latest technology
Protect America also offers a full range of sensors and detectors. You can add door sensors, window sensors, glass break detectors, smoke detectors, and more to your system, as well.
The monitoring service provided by Protect America covers you all day, every day. If a sensor goes off, you have enough time to get to your control panel and enter your code in order to deactivate it.
If the code isn't received by Protect America, they will contact you and ask for the password in order to determine whether it's a real emergency. If they don't get the password, they will contact your local emergency services agency or central dispatch.
Protect America also offers "Crash and Smash" detection through a partnership with Alarm.com. Once the customer is signed up through Alarm.com, the "Crash and Smash" feature will allow the system to recognize when someone has tripped the alarm, located the panel, and attempted to disable it by smashing it. If this happens, a code is sent to the monitoring station, and the customer receives a text notifying them of a "Possible Crash and Smash"!
What else you should know
One of the basic assumptions you need to make when choosing Protect America is that you're going to be with the company for about the next three years. Because Protect America offers such deep discounts (with essentially free systems in many cases), they do require an extended contract term. The good news is that Protect America provides exemplary levels of service with the latest technological advances in home security, so you should be very satisfied with your experience as a customer.

Monitoring Services
Police, Fire and Medical Response
HomePulse Broadband Monitoring
Standard Landline Monitoring
Two-Way Voice Monitoring
Real-time GPS vehicle tracking
Available Benefits
Cellular interactive home monitoring
Lifetime Alarm System Replacement Parts Warranty
Free Micro Sensor Upgrade
Online Storage and Archived Video
Customizable Email or Text Alerts
Advanced Camera Service
Cellular, Broadband & Landline Systems
No Activation Fees
No Equipment Fees
Lifetime Equipment Warranty
DIY Self Installation
Starting Price
$35.99 per month
Contact Number
855-965-2032