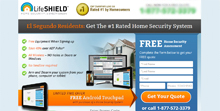 Highly rated by many homeowners across the U.S. and with an A rating from BBB, LifeShield Security™ goes well beyond the typical home alarm system in helping you protect what matters most. Every LifeShield security system comes with FREE interactive mobile access through the secure LifeView website and FREE iPhone, Android and BlackBerry apps for smartphones and tablets.
Limited Time Offer
Call for Offer Details!
866-270-7809
HALF THE COST
While most security companies simply resell equipment or service, LifeShield manufactures its own hardware and develops its own software, passing the cost savings on to you. Lifeshield starts at about HALF the cost of ADT Pulse, so you will save money every month while protecting your home with the most state-of-the-art, easy-to-use home security equipment and technology available. LifeShield also has an amazing customer service team who genuinely wants to make your home safe and help you fit home security into your lifestyle.
LIFESHIELD'S STATE-OF-THE-ART TECHNOLOGY:
Be in Control of Your Home Security

Call LifeShield™ Now
866-270-7809
Every LifeShield Home Essential Kit includes:
1 Base
1 Console
3 Door/Windows Sensors
1 Fire Safety Sensor
1 Motion Detector
Keychain Remote
1 Yard Sign & Decals
EASY INSALLATION & SUPERIOR QUALITY
LifeShield's Security Kit offers the first national, professional grade and professionally monitored wireless security system that uses an easy to set-up "plug and protect" process, providing superior home protection and the best value in total home security. Aside from the convenience of easy installation, you also get 24/7 professional burglary, fire, environmental and medical monitoring - included in one low monthly monitoring fee. Plus, up to four layers of backup protection (internet, cellular, phone, and battery backup) ensures that your home is always protected during a blackout, when the Internet goes down, and even if your phone line is cut.
24/7 MONITORING AT ONE LOW PRICE
No matter where you are in the world, if you have an internet connection, you can log in, check on your home's security, review security videos and photos, set up unique access codes and alerts, and see if any sensors need attention. You can even access local crime data and check analytics about your home security habits.
Monthly monitoring for all of these great features starts at just $34.99/month, about half the price of ADT Pulse! Buy direct from LifeShield and save on price without losing quality.
Call or visit LifeShield today and see how they can help you protect the home, people, and pets that you love.

Monitoring Services
Alarm Monitoring
Fire & Smoke Monitoring
Carbon Monoxide Monitoring
Medical Monitoring
Environmental Monitoring
Internet Security Monitoring
Cellular Security Monitoring
Available Benefits
FREE1 Kindle Fire HD Tablet - Limited Time
Wireless Security System
LifeView Mobile System Controls
On The Go Mobile Access
Remote Video Surveillance
Custom Text Message Alerts
No Activation Fees
Professional or DIY Self Installation
Starting Price
34.99 per month
Contact Number
866-270-7809