Door Sensors for Home Security Systems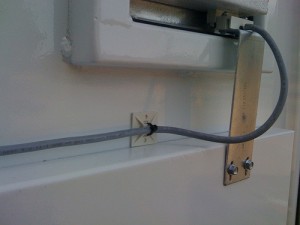 A Brief Overview
A lot of homeowners have installed home security systems in order to protect their families, home, and belongings and improve their level of security.  These systems are comprised of several standard components such as a control panel, motion sensors, and a battery back-up system.  However, there are other components that you can integrate into your home security systems such as door sensors.  Along with glass break detectors and flood or smoke detectors, these are excellent options to consider.
You have the option of installing these door sensors and integrating them with your security systems if you're a skilled DIY'er or you can employ the services of a technician to install these in your home.  Since a lot of home security systems are now including the cost of installation in the purchase price, the best time to add door sensors to your system may be at the point of purchase.  This may save you a little money up front rather than purchasing them separately later on.
The Function of Door Sensors
Door sensors serve the primary function of alerting a homeowner whenever a door is opened by a perpetrator.  When the alarms are set, the door sensors send a signal to the central computer of the home security systems whenever the device is tripped by a door opening up to the home.  At this point, the security systems will alert the monitoring company who in turn will contact law enforcement to investigate why the alarm has been tripped.  Naturally, the monitoring company will contact you to determine if in fact that the alarm is legitimate.
Types of Door Sensors
The standard door sensors with most home security systems operate using magnets.  However, there are other options available for mounting them.  The magnet is housed in one side of the sensor while the actual sensor mechanism is housed in the other.  When the metallic parts' contact is broken, it trips the sensor which then sends a signal to the alarm.
Door sensors are an excellent option for renters and homeowners alike.  A good idea is to purchase a door sensor that you mount to the top of the door in order to keep it out of sight.  There are also door sensors that can be recessed into the door jam and door.  Before making your purchase, you will need to determine which type will work best for you.
Photo via jimmyhere