Top Picks | PTZ Security Cameras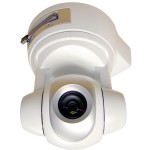 PTZ cameras enable businesses to take their security to a greater distance. The PTZ stands for pan/tilt/zoom and that is exactly what the camera is designed to do. The ability to move the camera around extends the viewing coverage area for extra protection. Image details can be increased with the zoom features during video monitoring in real time.
Many PTZ cameras available are suitable for indoor surveillance or for outdoor monitoring and can operate 24/7. These cameras offer high quality resolution so images being captured are clear and reliable. PTZ cameras can be mounted in multiple locations including walls or in ceilings when a PTZ dome camera is selected.
HSS.net has put together a comprehensive list of our Top PTZ Security Camera picks based both on each offering's features as compared to its price. (See our Top Home Security System Picks)
Rank
System
Features
Price
1.


DIGIOP Black 30x Zoom Speed Dome PTZ Camera

520 Lines of Color Resolution
30x Optical Zoom
Auto-surveillance Patterns
Motion Detection
Built-in Image Stabilization
3 Year Warranty

1349.99
View
2.


Sony 26X Zoom IP Day/Night PTZ Camera

26X Optical Zoom
30 FPS in VGA (640 x 480)
Intelligent Motion Detection
Dual Encoding Capability
PTZ 340 Degree/90 Degree
High Contrast in Low Light

1963.00
View
3.


18x Zoom Industrial Outdoor IR PTZ Camera

Programmable Tour & Image Presets
18x Optical Zoom
PTZ 360 Degree Continuous
Day/Night
1 Year Warranty
Infrared

1699.99
View
4.


18X Zoom Industrial Outdoor PTZ Camera

Micro Step & Vector Drive Technology
470 TVL Sony Super Ex-View HAD CCD
PTZ 360 Degrees
Weatherproof
0.01 Lux in Night Mode

999.99
View
5.


2.1 Megapixel 12x Zoom Mini WDR PTZ Security Camera

210 Preset Positions
720p @ 60 fps/1080p @ 30fps
12x Optical Zoom
PTZ 360 Degrees
2.1 MP Imaging

1299.99
View

(See Other Types of Security Cameras)
PTZ cameras are very effective with real—time surveillance needs of a company especially for loss prevention in retail locations and for identifying risk management issues. Real-time monitoring allows businesses to thwart shoplifting and other criminal activity as it occurs. The motion features allow for assurance unwanted activity is taking place. Surveillance agents can monitor indoor and outdoor locations with PTZ cameras using the multiple movement features with simple joystick control. Many of the cameras are equipped for also recording audio communication.
Outdoor PTZ cameras are made to be weather resistant so they can tolerate changing temperatures and weather conditions. They are ideal for mounting above doorways, entry gates, and other locations where security measures are necessary. The zoom, pan, and tilt features make it easy to track who is entering or exiting a property and even the number of the license plate on a vehicle.
PTZ cameras are available in a range of sizes and styles to meet the needs of a business. They are especially beneficial when mounting space is limited but a wide surveillance coverage is needed. Cameras can provide a range of up to 360-degree views with 90-degree tilts and 180-degree pan capabilities.