Top Picks | IP Security Cameras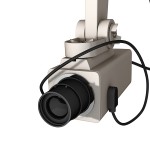 Internet protocol cameras, known as IP cameras, are used in the digital recording of surveillance footage. This type of camera can send and receive video data using computer technologies and the Internet. Cameras used for the purpose of surveillance are called IP cameras to differentiate from typical webcams.
IP cameras are available in two different types. A centralized IP camera feeds digital data to a central network video recorder (NVR) for the purposes of recording and surveillance monitoring. A decentralized OP camera does not require an NVR. The recording capability is built into the camera itself and has the capacity to record and store digital media through the use of a hard drive, flash drive, or USB storage device.
HSS.net has put together a comprehensive list of our Top IP Security Camera picks based both on each offering's features as compared to its price. (See our Top Home Security System Picks)
Rank
System
Features
Price
1.


IQeye SD480p Network IP Box Camera

60 fps @ SD480p
H.264 Main Profile + MJPEG
Wide Varifocal Lens
DTS (Direct-to-Storage)
One-Way Audio G.711 PCM 8 kHz
3 Year Warranty

459.00
View
2.


Sony Network 1080p HD Box Security Camera

1080p High Definition
Supports H.264 @ 30 FPS
3 MP 1920 x 1440 Resolution
Exmor CMOS Sensor
Power Over Ethernet (PoE)
3 Year Warranty

1048.00
View
3.


DIGIOP Black True Day/Night H.264 Network IP Camera

30 FPS High Res 720 x 480
H.264 Compression
Lens Not Included
560 Lines of Resolution
12VDC or PoE
3 Year Warranty

579.99
View
4.


IQeye H.264 HD1080p Network IP Camera

1080p High Definition
H.264 Main Profile + MJPEG
2.0 MP @ 30 FPS
PoE
Wide Varifocal Lens
3 Year Warranty

559.00
View
5.


DIGIOP Black 2.0 Megapixel Network IP CS-Mount Box Security Camera

2 MP @ 15 FPS
Aptina Micron CMOS Imager
H.264 Compression
Supports 12VDC or PoE
3 Year Warranty

429.99
View

(See Other Types of Security Cameras)
IP camera systems are available with two-way audio communication capability so in addition to video monitoring and recording, audio can also be included. IP cameras provide a high resolution image and HDTV imaging no matter how distant the images are at the time of recording. Cameras transmit data securely using encrypted methods and wireless cameras make security systems very flexible and accommodating to spaces where wires are difficult to run. Due to the use of Internet technologies, remote access to the cameras can be gained from computers and smartphones so spaces can be monitored at all times from anywhere.
These types of Internet camera systems are becoming popular among many types of businesses especially those that cater to their customers desire to stay in touch remotely such as at child care centers and pet kennels. The ability to communicate through this technology also makes this type of camera unit appropriate for gas stations where cashiers need to both monitor and communicate with customers.
The ability to live-stream video from IP cameras from on-site monitors or through remote access via the Internet makes these types of cameras an effective and popular method for increasing security and risk management in residential settings and for businesses of any size.