Teenager Thwarts Phoenix Burglary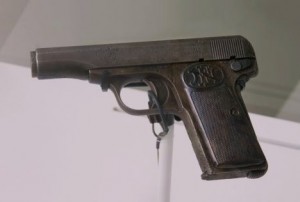 On June 22nd, 2012, a 14-year-old Phoenix boy was at home babysitting his three younger siblings aged 12, 10, and 8, when at around 4:30 p.m. the boy heard a knock on the front door.
The boy didn't recognize the woman standing on his doorstep and knew better than to answer the door for a stranger when his parents weren't home.
Several minutes went by before a male companion with the woman showed up and began knocking on the door. The boy then rushed his siblings upstairs and grabbed his father's pistol from his parent's bedroom.
After some time waiting with his siblings upstairs with the firearm, there was a crash heard downstairs and, from his view at the top of the stairs, the boy saw a man breaking through the front door holding a gun, which he pointed at the boy.
Despite the horrific situation unfolding, the boy took aim and fired at the intruder, dropping the man as he came through the doorway.
The boy ran to his neighbors and called his parents, as reported by ABC 15. The man, Richard S. Fiore, 37, was left in critical condition, but was released nearly a week later and booked into police custody on four counts of aggravated assault, burglary, and prohibited possession of a firearm.
Alexis Monique Hinojos, his 24-year old female accomplice, was arrested and booked June 28th on suspicion to commit burglary.