Available Benefits
FREE3 DIY Wireless Security System
Wireless Professionally Installed System Also Available - Installation Starting At $99
Image Motion Sensor Standard In ALL Packages
Advanced Tamper-Resistant Technology
Full Color Touchscreen Keypad with 2-Way Voice.
No Landline Required
Still Works When Power Is Out Or Internet Is Down
Interactive Services
Interactive Services INCLUDED In Package Pricing - NO Additional Charges
Remote Control Through FREE App
Remotely Control Thermostats & Lighting2
Arm & Disarm System Through Your Smartphone
Real-Time Text & E-Mail Alerts
Receive Alerts Even When System Is Disarmed
View Video Feeds On Your Smartphone
Remotely Monitor Smoke, Carbon, Water, & Temperature2

2With Purchase Of Additional Equipment
Protection 1 is the nation's largest full service electronic security provider, with nearly 2 million customers and over 3,000 employees. Protection 1's massive infrastructure enables them to provide very affordable home security plans to consumers, starting at just $36.99/month, and to deliver excellent customer service. With Protection 1, you don't have to deal with an impersonal automated phone system; a real person will answer your call in two rings or less! Protection 1 offers a 3FREE wireless DIY install system or a professionally installed system starting at $99 for both single and multi-family dwellings and businesses.
3FREE Simple DIY Installation Or $99 Professional Installation?
Protection 1 offers both! 3Free Simple DIY installation gives consumers the freedom to install their security system at their own leisure without having to worry about inviting a stranger into their homes. Protection 1 also offers professional installation for those who wish to have their system professionally installed. Protection 1 conducts extensive background checks for all of their technicians for quality assurance. Their exclusive Tech Tracker services provides a list of their qualifications, expected arrival time, and even a photo of them so you know exactly which professional technician will arrive.
What Monitoring Services Are Provided By Protection 1?
Protection 1 offers home and business security systems including intrusion detectors for homes and businesses; cellular backup allowing wireless signals when land based phone lines are disabled or unavailable; and wireless security systems. Protection 1 offers a image motion sensor that is included in ALL of their available packages. Each motion-triggered event is captured as 2 color images that get sent to you via text or email. One is a wider shot, and the other focuses on the intruder's face.
The company also offers LifeLock Identity Theft Protection, a variety of controls and keypads for home security systems, wireless smoke detectors, and Interactive Services, a standard option that allows remote home security monitoring from smart phones or computers. For businesses, they offer security cameras and state-of-the-art Stream MonitoringSM. They monitor a business's data stream and identify anything that should be cause for concern, generating easy-to-understand alerts and reports. Specific security resources for retail stores, banking, telecommunications, warehouse and manufacturing locations are also available.
What Benefits Does Protection 1 Offer?
Protection 1's nationwide capabilities allow both custom designed security systems and national equipment and resources. The company provides security systems, professional installation using licensed technicians, same day local service, and 24/7 monitoring.
Monitoring services utilize five company owned UL Listed centers that offer alarm monitoring, tech support services, and service dispatch. Their system provides three levels of monitoring: through primary, back up, and a disaster recovery, off-site location.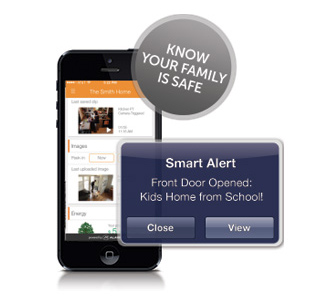 Protection 1 offers customer service with no automated attendant. When you call them a live person answers the phone within just a couple of rings. No navigating through a complicated phone tree.
The company responds to all service calls quickly, and uses a Tech TrackerSM system so that customers receive a series of e-mails which include a picture and bio of the technician that will be providing service as well as an e-mail when their technician is leaving the previous job. There's also an advanced online service option for commercial customers, eSuiteSM, a security portal that connects customers online to their alarm activity, critical data and more.
Protection 1 also offers a $1000 Deductible Protection plan.
What Technology Does the Company Offer?
Protection 1 pioneered the PrimeCell™ for Cell Phone-Only Households, allowing security monitoring for cell phones only.
Another technological innovation Protection 1 offers is the Image Motion Sensor, which comes standard with all their packages. With this sensor each motion-triggered event captures color images and sends them to you via text or email, or you can peek in with your phone anytime.
Protection 1 also offers a full color touch screen keypad with 2 way voice, severe weather alerts and a bi-directional key fob for remote system programming.
Protection 1 also offers interactive services as standard in their packages which puts the consumer in control of their home security system at all times, day or night - from anywhere. Customers can remotely access and control their security system, lighting, door locks, garage door, thermostat, cameras and video from their computer or smartphone. Their interactive service is compatible with most web-enabled PCs, Android phones and tablets, as well as iPhones, iPads or iPods.
What Do Protection 1 Services Cost?
While security packages are tailored for individual home and business use, the company offers monitoring services from $36.99, and free quotes are available on line.
Why Choose Protection 1?

Overall Impression
The company is focused on customer service, and offers all live operators rather than automated phone attendants. It was the first national provider to offer Web-based home security. In short, the company seems proactive toward customers, offers extensive national account, business and multi-dweller options, and its triple redundant monitoring back up approach provide advanced security services. Protection 1 is a great option for any consumer seeking a home security company that is reliable, affordable and also provides great customer support.
The Good:
A+ BBB Rating
97.3% Customer Satisfaction Score
2014 Installer of the Year
FREE Equipment with their simple self-install package.
Free image motion sensor included in all packages.
Remote mobile access to home security system included in all packages
The Bad:
Video monitoring not included in standard package
The Ugly:
User Reviews
Not all submitted reviews are posted but all submitted reviews are factored into our rating. HomeSecuritySystems.net believes the posted reviews best reflect the overall opinions of all submitted reviews.
Submitted by Jessica butler
Mrs Hanna was very polite and answered my questions to the best of her ability. She explained in detail the details of the plan I chose. The customer experience was wonderful
Submitted by John Bigham
We had a different local system but have had Protection 1 since last summer. We are very happy with all aspects of our system which includes smoke/temp alarm/camera. Really like the app so can turn on and off alarm from anywhere.
Submitted by John Grab
Excellent personal customer service
Submitted by Dee Magleby
Protection 1 has been an amazing company in every aspect. Their prices are competitive and fair based on the features I wanted. The system was easy to use and interact with. We not only had same-day installation, but also a same-day service service call when we decided to add an extra door sensor. Customer Service is incredible, love not having to work my way through a phone tree, but got connected with a live person after 2 rings. Protection 1 is the Best!
Customer Testimonials
All features described in any testimonial may not be included in every package offered.
Debbe P.
I don't know the name of the woman who did the service call at my house on May 29th. She was there to replace a battery in my security system. But she went above and beyond the call of duty in assisting me with questions about my system, and helped me get rid of an annoying "15 second beep" I've been dealing with for over 4 years when I activate my system. She also helped with re-setting my passcode on what is probably an outdated system for which I had no owners manual. She was polite, courteous, helpful and on time! I couldn't have asked for anything more in a customer service rep. I would want her back if I ever had any other security system concerns. I would give her an A++!
Patricia C.
Just want to say, that I appreciated the dedication the installer had when he came over to install our new system, he was there till 10:30pm and made sure everything was how we liked it and that we knew how to work it, I wish I remembered his name but he was awesome.......We had ADT but we were contacted by GE alarm consultants and how they switched over to Protection One since ADT couldn't keep up with A+ BBB rating, so we made the switch too and we got a better system and are paying the same price, THANK YOU!!!!!!
Debbie
I always hate moving and trying to find a security company I feel is both efficient and cost effective. I knew I had made the right decision from my first interaction with the sales force and it was solidified when the installer came to my home. Not only was he professional and kind he went above and beyond to make sure I was satisfied even though it meant him staying well beyond a typical shift. I even asked him to please come back the next day and he said " it is my job to make sure you are satisfied and the job is complete". Who's says that anymore? Well I guess it is the way Protection One trains it's staff. The system is so easy to use and I love the communication through email or text. Could not say enough about how satisfied I am!
Sunghee L.
Today I was on the live chat with the specialist, who is 'Jeremiah'. When I didn't get his explanation about my concerns, he wanted to call to make me to understand easily. That was a big help to me. He got a translator on the phone for me and I was very comfortable to communicate with them. On top of that, he helped to dispatch a technician to my house on his knowing only one day to install is left to me. In general, Mr. Jeremiah is nice and kind to explain all that I wanted to know and solved the problem. Thank you for helping me. I've been your customer since I have moved here from 2007.
Anonymous
Protection 1 was recommended & we know why!! We needed a security system so we asked some friends. They had a bad experience with another company & then went with Protection 1. They recommended Protection 1 & we followed their lead. We see why. Their service has been the best!!!!
Randy Y.
I would like to have technician Christopher Gray in Las Vegas assigned my account here is why. He has been to my home a few times and really gets results. He is also a Professional Security Consultant, he makes recommendations then implementing them. I.E. After 10 years of other service men who were professional only Chris set up house motion sensors to cover twice as much space. He also was the only person able to set my system dial out delay the correct way to my specifications. Not to mention his positive personality. Chris represents Protection 1 proudly and each time he shows up he provides your customers with great sense of humor & a focused commitment to excellence. He knows his stuff.
*All features described in any testimonial may not be included in every package offered.