Polite Burglar Tries to Make a Deal – Bremerton, Washington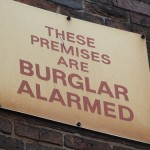 An absent-minded burglar in Bremerton, Washington, made a hasty exit in the early hours of the morning Tuesday, April 24th, after one of the homeowners grabbed a gun and yelled "Get out! I have a gun!" The burglar responded "Yes, sir!" as he ran out of the home before the police arrived.
Bremerton Police Officers were called to the Pitt Avenue home at approximately 3 a.m. for a burglary in progress, but arrived to the home shortly after the burglar made his getaway. The police dog was unfortunately unable to find a scent of the burglar.
In a bittersweet twist, the burglar had left behind a bag of items which included papers identifying him and later Tuesday afternoon the burglar called the victims asking if he could trade some of his stolen goods for a bag of items he had left behind, which included the papers identifying him. The burglar's only stipulation was that the homeowners didn't call the police.

Officers were waiting for the burglar upon his arrival to make the transaction and arrested him for investigation into the burglary, reported Sgt. Kevin Crane of the Bremerton police.
"It's very unusual," Crane said. "I've never seen this happen before where a burglar contacts the victim trying to make a deal to exchange things he left behind for some of the items he stole from the victims."
Bremerton is approximately 17 miles west of Seattle, Washington, on the other side of the Puget Sound.
Photo credit to ell brown