Available Benefits
Wireless Security Video
Remote Access, Thermostat, Light & Video Control
Redundancy Safeguards
Phone, Email & Text Alerts
Crash & Smash Protection
Home Automation - Locks, Climate, & Lights
100% Cellular Monitoring
DIY Self Installation
Monitoring Services
Burglar and Intrusion
Fire Monitoring
Environmental Monitoring
Life Safety
Our Top Choice
If you're considering a wireless home alarm system, Frontpoint is a great option. Frontpoint is one of the leading wireless home security system providers in the nation. Let's take a look at Frontpoint's equipment and service and see how they stack up against other home security options.
Frontpoint's Wireless Core
At the heart of the Frontpoint system is a state of the art wireless control panel. There are a variety of sensor types you can have with the system, including:
Door sensors
Window sensors
Glass break sensors
Smoke detectors
Carbon monoxide detectors
Motion detectors
and more
Each of the wireless sensors communicates with the control panel to create the secure area. The sensors are high-quality, tamper-resistant, and difficult (if not impossible) to disable.
The control panel gets regular signals from the sensors. Depending on the configuration of your system, you might have more than just one control panel, but one is fairly common.
Monitoring and response
When the Frontpoint control panel gets a tripped alarm signal from one of the sensors, it immediately sends a secure signal via the cellular network to the monitoring center. That signal is encrypted, meaning that it's almost impossible to disrupt it.
You have your choice of monitoring packages from Frontpoint. There are monitoring plans for a number of contingencies, including burglar, fire, and more.
With the Interactive Monitoring plan, you can add another layer of protection. The system can be configured to send you a text (SMS) message whenever it detects a triggered alarm.
Perhaps best of all, Frontpoint's alert system is fast. Many traditional home security systems have a delay between the time the alarm is triggered and the time they receive the signal. During that delay, a burglar could compromise the system, preventing a singal from being sent.
With Frontpoint, a signal is sent every time a door is open when the system is armed. It then gets a signal when you disarm, as well. If they don't get the disarm signal, they know something is up.
Latest Technology
Frontpoint will even work for a home that doesn't have a landline for telephone service. It can use an all-cellular signal and VoIP technology to keep your system humming right along.
Add in the remote access technologies that the system offers, and you have some of the latest advances in home security. You can actually view the real-time status of your home security system via a smartphone app, giving you instant access to your home's information.
New Product Highlight: The Qolsys' IQ Panel
As if Frontpoint didn't already have enough to offer, the company now introduces its brand new touch-screen control panel, the Qolsys' IQ Panel, which provides homeowners with the most advanced functionality and capability available to the market – all unified within their monitored system. For those worried about compatibility with existing equipment, no need – the touch-screen panel is compatible with all existing Frontpoint sensors, and even better, is setup to support any future launches as well.
The Qolsys' IQ Panel is being made available as an optional upgrade to Frontpoint's existing Simon XT control panel, which will still be available to customers who aren't interested in the upgrade. However, these will probably be few and far between considering all the amazing features the new panel offers. Not only can it capture image and timestamp when your system is disarmed, it features simultaneous cellular and Wi-Fi communication, improving speed and rendering smarter redundancy.
The 7-inch LCD restrictive touchscreen (800x480 resolution) looks absolutely stunning and comes fully-equipped with a camera app and front-facing camera for a full range of flexibility. As the new offering manages to also include all of the existing Frontpoint panel features – 100% wireless and cellular technology, Crash and Smash protection, etc. – there's seemingly no reason not to complete the upgrade or side with Frontpoint if you're new to home security altogether.
Featured in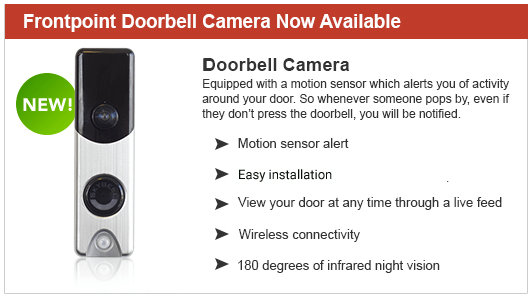 Cost
Frontpoint isn't the cheapest home security system on the market, but it is not nearly the most expensive either. At the end of the day, you want a home security system you can trust - one that is reliable and one that comes with the most up-to-date technological advances. Frontpoint offers all of this and more.
The Frontpoint monitoring service varies depending on your features, but starts at 34.99 per month. That puts it under many competing systems.
If you're interested in a reliable wireless home security system with state-of-the-art technology, please call or visit Frontpoint today.
The Good
Tons of features at incredible prices
Mobile access to home security through phone or tablet
The Bad
Video monitoring only available in highest tier
The Ugly
Our #1 Choice
The Frontpoint system is our top choice! You get the latest technology with extremely fast response times at a price you can afford.
User Reviews
Not all submitted reviews are posted but all submitted reviews are factored into our rating. HomeSecuritySystems.net believes the posted reviews best reflect the overall opinions of all submitted reviews.
Submitted by cc
System is excellent very easy to use, and the service is outstanding never a wait, would recommend to anyone.
Customer Testimonials
All features described in any testimonial may not be included in every package offered.
Submitted by Jim B., Washington, MI
Best on the market. Easy to install, great customer service, expandable, relocatable, advanced technology with remote monitoring from your smart phone or computer. Have had my system for about 3 years with very few problems. I feel safer when I go to bed at night knowing I have my FrontPoint system active. Highly recommend FrontPoint Security Systems.
Submitted by Jennifer M., Bradenton, FL
So easy to install... love the fact that it is wireless. Never need worry about someone cutting wires and rendering system useless. Cat sitter accidentally set system off while we were out of town and we were notified by phone within minutes and issue resolved. They are always fast and reliable. So much peace of mind when husband is out of town.
Submitted by J Richard S., Oneonta, New York
One of the features I like is when I forget to set the security on leaving I can still set the security from quite a distance and know our home is safe. The other feature that I am impressed with is I don't have to worry about losing power for the system to function properly. I do have to be careful to disarm the system prior to leaving out home, a few times I did this but was amazed at the local security response we got when I goofed.
Submitted by Jillian , Pine Hill, NJ
As my first home security system I have no complaints! I had a wired system at my parents house but it doesn't compare to the customer service and accessibility here at FrontPoint Security. I love that I can monitor the activity right from my cell phone and get alerts when any sensor has been activated. We had some complications with the garage door sensor, and it was resolved in a timely manor. Customer service is great everyone I've ever talked to has been super nice and actually want to help you! Take the time to invest in this great system you won't be disappointed!
Submitted by Paul H., IN
Recently when I was out of town, I received a text message on my phone saying there was water in my basement. I asked a neighbor to check it out and found that the sump pump had failed. I wouldn't be able to get home and then go to the store for a replacement sump pump so I bought one en route. When I got home, the old sump pump had stopped working and so I replaced it with the new one. It was still raining and water was still needed to be pumped out of the basement. If it wasn't for the notification from the water sensor I would have been in a tough situation without a replacement sump pump. Thanks FrontPoint!
Submitted by Roy L., NC
One of the most ingenious alarm systems I researched! Their customer support is friendly, informative, and know their stuff. The set up is quick and easy. The equipment is expandable and can be customized to the needs of your home. Their monthly fee is more than fair considering their competitors. No hidden fees. No surprises. If something doesn't work correctly they will assist you and explain what may have gone wrong. There is nothing negative I can say about them and everything to say positive about them.
Submitted by Phillip B., South Fulton, TN
This is the best thing since sliced bread for peace of mind. This is a great system that you can install yourself, the price is right and you can sleep at night knowing they are on the job. This is a fully monitored alarm system 24/7 if you want it to be. I really didn't think I wanted or needed one. But right out of the box I had a sense of relief like you would not believe. Customer service is right on top of everything also. First class alarm and first class company. It is a keeper@
Submitted by Frances, MD
I absolutely love everything about FrontPoint thus far - from the ease of self-installation to the ease of use with their iPhone app. Any questions I had/have are answered in a timely fashion and troubleshooting issues are resolved with one phone call. AND, the pricing is AWESOME!! My next purchase will be the camera installations. :)
Submitted by Veronica, Virginia Beach
Great system!! Very easy to install and customer service is great! You save so much money doing it yourself and the best thing is there are no strangers in your house :)
Submitted by Keith M., Pensacola
We have had our system for only one week and we love it!!! It was so easy to buy and install. Found out I could even put sensors on my refrigerator to keep mother in law out but my wife said no!
Submitted by Eric & Gina R., Tyngsboro, MA
We were shocked to discover our home had been broken into and robbed this past summer. We are renting and didn't want to put a costly security system into a rental house but I refused to leave the house until we did something for security. My husband did a lot of research and discovered FrontPoint. A wireless system that we can take with us when we move. He read many reviews that were all very good so he made the call and placed the order. Everyone we have talked to has been extremely friendly and very helpful. Our system has been in for several months now and I feel so much better about leaving the house. It is so convenient to use my phone to arm and disarm. We love everything about it! Especially the secure feeling we now have.
Submitted by Joe K., Wheeling, IL
Frontpoint service is fantastic! Customer Service has always been very helpful and billing is a breeze; two things I'm usually cautious about with any service company. The system is very easily set up and maintained, all additional sensors are plug-and-play so that even non-techies can install! The interactive monitoring service is AWESOME! Customizable push alerts sent to your phone in whatever way you want so that you know what's happening at all times! Very intuitive interface with your online account, and overall just a real breath of fresh air knowing that your home and family are protected! One of the best investments you can make.
Submitted by Chris , St Louis MO
Frontpoint security is the best home alarm around. BEST CS as well. Had a few issues and they were quick to fix and even checked back to make sure i was happy A++++++++
Submitted by Deb, Brick, NJ
Customer service was excellent. So easy to deal with and NO pressure. The price was very affordable and the system was super easy to install. I feel so much safer with my alarm!
Submitted by Debbie R., Detroit, AL
We are so pleased with security. When we are away from home, we do not have to worry. Always prompt with checking on things. So glad we went with Front Point. Customer service is great.
Submitted by Ashleigh I., Arlington, Va
Great system! Easy to install and even easier to use. I love the App that lets me monitor my system from anywhere! We were even able to see if we had a power outage when on vacation and a storm came through Arlington. I would recommend this system to anyone.
Submitted by Stan & Theresa P., Northwest Ohio
My wife and I previously had a "wired" security system. It was somewhat adequate for our property needs... but NOTHING like the FrontPoint Security "peace of mind"! Thanks so much for the powerfully, interactive, wireless and remotely accessible system you've created. We LOVE the peace of mind and powerful security features you've designed and your never ending quest for even more features and functionality!
* All features described in any testimonial may not be included in every package offered.