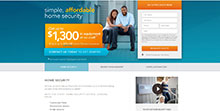 Vivint is a relatively new name in the home security system marketplace, but the solutions they provide have been around a while. Vivint used to be known as APX Alarm Security Solutions, but in 2011 they decided to seek investment funding and expand their home security business into the home control market. This has only enhanced their position in home security.
A different kind of home security company
It's that home control element that makes Vivint possibly the most interesting home security system on the market. The home control features allow you to do a number of things beyond simply home security, such as:
Control your thermostat remotely. You can set your home's temperature, switch between central air and heat, and more.
Activate or deactivate electronics. You can remotely power or shut off the power to any electrical socket in your home. This allows you to shut off outlets when they're not in use, or put certain devices on a timer.
Control certain appliances. There are even some appliances that have a specific device interface for the home control system.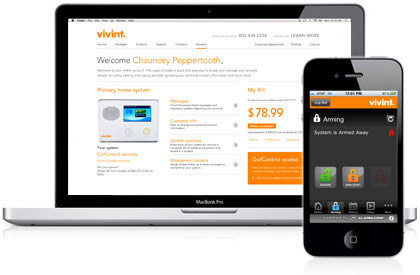 Call Vivint now at

866-278-9277
Wireless home security sensors and accessories
Vivint home security systems have the same kinds of sensor capability that most other wireless systems do. Standard in the Home Automation package are:
One control panel
One motion detector
One IP camera
One key fob
Three door or window sensors
Obviously, you're going to need to add some window sensors, and possibly some door sensors, as well. There are also some obvious add-ons that you should pick, such as a smoke detector. The standard package gives you "points" to work with that allow you to customize your package, adding sensors as you see fit. You can also buy additional points in order to add sensors or components.
Protected monitoring
Vivint's system utilizes a 24x7 monitoring service, just as most alarm systems. Like some other systems on the market, it also includes  "crash-and-smash" protection. What this means is that, even if a burglar disables an alarm system after they break in, the alarm company will still call the police. If they don't receive an actual disarm signal, you'll get help.
A unique control panel
The Vivint home security system control panel is something that sets it apart. It's a large, color, touch screen. It gives you not only the system status at any given time, but it also provides the weather forecast, any severe weather alerts, and more.
This control panel is one of only a few on the market that allows you to have a two-way conversation with the security company right from the control panel. If the alarm is triggered, the representative can contact you immediately through the control panel. If they can't get a hold of you, they'll still contact you via your emergency numbers before contacting emergency services.
Pricing
Vivint is one of the lower-priced home security systems out there – unless you pay for it all up front. If you do, you can get a discount on the monthly monitoring service of about $20. It's also the difference between paying $199-$400 (depending on options) and the full $1,500 or more.
If you want more from your home security system than just an alarm, consider Vivint today.

Monitoring Services
Remote Video Surveillance
Fire & Smoke
Carbon Monoxide Alarm
Medical Pendant
Two-way Voice Feature
Available Benefits
Cellular Security System
Remote internet and smart phone access
Automatic Door Locks
Custom Notifications & Non-Emergency Alerts
Severe Weather Alerts
Remote Thermostat, Lighting, & Appliance Control
Smart Grid Energy Management
Complete Home Security & Automation System
Remote Electronic Door Locks
Free Professional Installation
Starting Price
49.99 per month
Contact Number
866-278-9277