How To Beef Up Home Security And Stop Garage Door Hacking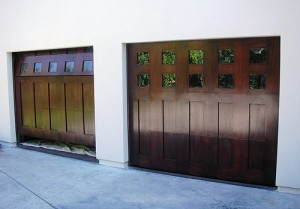 If you have an older garage door opener or remote that does not employ rolling code technology, you could be putting the safety of your home and family at risk.  Today more than ever, hackers have expanded their focus to many other electrical devices besides the computer.  Hackers have found that older style handheld remote garage door transmitters can be bypassed with a little bit of electrical wiring finesse.  With a few simple tools such as electrical tape, a USB cord, standard remote control transmitter, a butter knife and a sharp knife; thieves can strip electrical wires and place them on the contact points of your internal antenna within your transmitter to bypass your garage door opener.  This deceptive action communicates with your garage door opener and allows hackers to gain entrance to your home.  Homeowners might be surprised that this task is possible and can be an alarming and somewhat unsettling prospect.
Garage Door Hacks – In How-to Videos?
Professional Hackers have even gone so far as to demonstrate their prowess by spotlighting their "how to" videos on YouTube and other video sites.  As a homeowner, you can stop this from happening to you by properly protecting your garage door with rolling code technology.  If you are not familiar with this kind of technology, you may wonder what rolling code technology actually is?  Rolling code technology is quite simply an electrical algorithm that is an updated home security systems feature on newer garage door openers.  Rolling code transmitters gives you peace of mind in knowing your home is secure.  It's commonly referred to as a "hopping code", which means that it has the ability to roll the security code over to one of over 100 billion different possible sequences.  This capability means that they can never be repeated or bypassed; thereby making stolen codes useless to pesky burglars looking to rob you blind.
Rolling Code Technology with Home Link
Utilizing patented security rolling code transmitters will stop you from becoming a target and some are even Home Link compatible.  Some newer automobiles are now being sold in the U.S. where the homeowner is able to open their garage door from the touch of a button right from the cars dash console.  Home Link even allows you to control your garage door lights as well from the comfort of your vehicle before returning home.  Some Chamberlain openers include security features such as lock switch capability.  When activated, the homeowner can turn on a lock switch which blocks out all outside remote signals while you're away or on vacation.
Staying connected and plugged in to new security features for your home is critical these days. The wonderful World Wide Web can provide a wealth of information on how you can upgrade your old garage door remote and opener.  Using a rolling code transmitter can make home security systems even more secure and purchasing an updated opener is your first defense against intruders from entering your home.
Photo via DecoDesignCenter.com