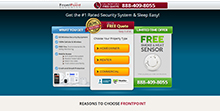 Our Top Choice
If you're considering a wireless home alarm system, FrontPoint Security is a great option. FrontPoint is one of the leading wireless home security system providers in the nation. Let's take a look at FrontPoint's equipment and service and see how they stack up against other home security options.
FrontPoint's Wireless Core
At the heart of the FrontPoint system is GE Security wireless equipment. There are a variety of sensor types you can have with the system, including:
Door sensors
Window sensors
Glass break sensors
Smoke detectors
Carbon monoxide detectors
Motion detectors
and more.

Limited Time Offer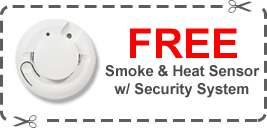 Dispatches fire department when room is too hot too fast!
Call for Offer Details!
866-328-3023
Each of the wireless sensors communicates with the control panel to create the secure area. The sensors are high-quality, tamper-resistant, and difficult (if not impossible) to disable.
The control panel gets regular signals from the sensors. Depending on the configuration of your system, you might have more than just one control panel, but one is fairly common.
Monitoring and response
When the FrontPoint control panel gets a tripped alarm signal from one of the sensors, it immediately sends a secure signal via the cellular network to the monitoring center. That signal is encrypted, meaning that it's almost impossible to disrupt it.
You have your choice of monitoring packages from FrontPoint. There are monitoring plans for a number of contingencies, including burglar, fire, and more.
With the Interactive Monitoring plan, you can add another layer of protection. The system can be configured to send you a text (SMS) message whenever it detects a triggered alarm.
Perhaps best of all, FrontPoint's alert system is fast. Many traditional home security systems have a delay between the time the alarm is triggered and the time they receive the signal. During that delay, a burglar could compromise the system, preventing a singal from being sent.
With FrontPoint, a signal is sent every time a door is open when the system is armed. It then gets a signal when you disarm, as well. If they don't get the disarm signal, they know something is up.
Latest Technology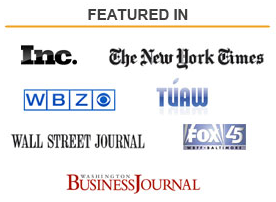 FrontPoint will even work for a home that doesn't have a landline for telephone service. It can use an all-cellular signal and VoIP technology to keep your system humming right along.
Add in the remote access technologies that the system offers, and you have some of the latest advances in home security. You can actually view the real-time status of your home security system via a smartphone app, giving you instant access to your home's information.
Cost
FrontPoint isn't the cheapest home security system on the market, but it is not nearly the most expensive either. At the end of the day, you want a home security system you can trust - one that is reliable and one that comes with the most up-to-date technological advances. Frontpoint offers all of this and more.
The FrontPoint monitoring service varies depending on your features, but starts at 34.99 per month. That puts it under many competing systems.
If you're interested in a reliable wireless home security system with state-of-the-art technology, please call or visit FrontPoint Security today.
Our #1 Choice
The FrontPoint Security system is our top choice! You get the latest technology with extremely fast response times at a price you can afford.

Monitoring Services
Burglar and Intrusion
Fire Monitoring
Environmental Monitoring
Life Safety
Available Benefits
Wireless Security Video
Remote Access, Thermostat, Light & Video Control
Redundancy Safeguards
Phone, Email & Text Alerts
Crash & Smash Protection
Home Automation - Locks, Climate, & Lights
100% Cellular Monitoring
DIY Self Installation
Starting Price
34.99 per month
Contact Number
866-328-3023