Finding Pet-Friendly Home Security Systems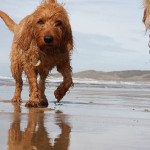 It's a common misconception to believe that home security systems are impractical in homes with active pets. In the past, technology occasionally inconvenienced pet-owners who had invested in home security systems. However, people no longer have to worry about dogs and cats causing motion detectors to set off false alarms.  There are a few different ways to keep your home secure while giving your pets freedom to roam about the house as they please.
Pet Friendly Options
Unless your pets use the doggy door at night, local alarms placed on windows and doors are an easy way to circumvent false alarms from your pets. Certain types of home security systems will place photoelectric beams or a magnetic sensor on your door, so you'll know if anyone is coming in unexpected. These systems don't use traditional motion detection, so dogs and cats will have a tough time tripping the alarm.
However, there are plenty of home security systems that use traditional motion detection that are suited for pet owners. Most security systems of this nature use dual sensor detection. One sensor will be lower to the ground, and another will be higher off the ground. In order for the alarm to sound, both sensors must activate at the same time. The height difference between even large dogs and humans is substantial enough to avoid most false alarms. If you own multiple animals, especially cats who are fond of climbing high on furniture, you may want to look for other home security systems for your household.
infrared motion sensors
There are also some infrared motion sensors that are developed for pet owners. These home security systems can differentiate between the amount of infrared body heat a human body emits compared to that of most animals. However, these home security systems are best for owners of smaller pets. If you own a large dog, like a St. Bernard or a Mastiff, this is not a practical system for you to own. Dogs this large will emit a considerable amount of infrared heat, and may trip the alarm frequently. However, owners of smaller dogs and cats should find these home security systems to their liking.
Regardless of what approach you choose, be sure to discuss your options with your home security systems provider. Most installers will be able to advise you on whether or not certain home security systems are right for your situation. If you do not do the research, poorly-integrated home security systems may constantly annoy you with false alarms.
Photo via Pets Allowed